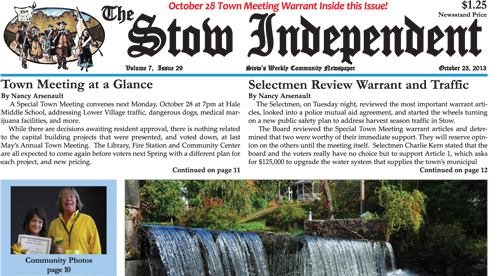 Town Meeting at a Glance
A Special Town Meeting convenes next Monday, October 28 at 7pm at Hale Middle School, addressing Lower Village traffic, dangerous dogs, medical marijuana facilities, and more…
Selectmen Review Warrant and Traffic

The Selectmen, on Tuesday night, reviewed the most important warrant articles, looked into a police mutual aid agreement, and started the wheels turning on a new public safety plan to address harvest season traffic in Stow..
Business is Booming in Stow

Stow's Lower Village commercial district is taking on a new look. With new retail tenants opening their doors, a commercial building getting an exterior facelift, and a source for water imminent, it appears that the town's mercantile center is blossoming…
Real Events and Their Scary Legends

Just in time for Halloween, Randall Library welcomes Christopher Daley on October 30th at 7:00pm to talk about the Haunted History of New England. Daley's presentation will examine historical facts and the resulting spooky legends in an interesting look at events that really happened and the stories of haunting that followed them…
Despite Loss, Playoff Berth Secured
The Nashoba Regional football team fell to Leominster 40-15 on Friday night in a game that gave the 3-3 Chieftains a first-hand look at why the unbeaten Blue Devils are the top ranked team in Central Mass…
Past Tense: Stow's Coffee Shop
If you asked someone today if they knew of a coffee shop in Stow next to a store, they would probably mention one the many eating-places in the shopping center in the lower village of Stow…
Obituary
Nashoba Varsity Scoreboard
Community Photos
Classifieds
Puzzles
And more!