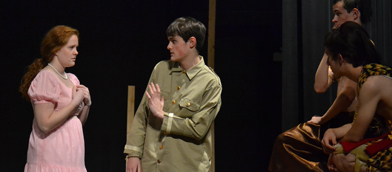 By Ann Needle
It sports a plot seemingly ripped from reality TV, though it was written more than 400 years ago. William Shakespeare's A Midsummer Night's Dream takes to the Nashoba Regional High School stage this weekend — with a twist guaranteed to put zip into what was already one of Shakespeare's liveliest works.
"There are things in this that you are definitely not expecting," stressed Director Bill Grady. "But I'd rather keep it a surprise." For those who crave a hint: The surprise lies in a form of very, very lively, and lushly choreographed, Indian dancing.
Indeed, Grady has moved Midsummer's setting in ancient Greece to the Bombay, India of the British occupation in the 19th century. He explained that Shakespeare's words and situations fit well into so many historic periods that all he needed to do was change the names of the places and characters from the original manuscript. For instance, the ensemble of fairies and nymphs represent Indian gods of the Earth, with names such as Aleppo, Ginger, and Cilantro.
The comedy centers on the lavish wedding of Bombay royal Theseus to Hippolyta. Surrounding this are the adventures of four young lovers and a group of six amateur actors, who are controlled and manipulated by the fairies that inhabit the forest in which most of the play is set.
As with many of Shakespeare's works, Midsummer's story line gets wrapped pretty deeply in that old web of human emotions and stumbles. Anyone wondering whether the notion of reality TV sprang from Shakespeare's situations should carefully study the following snippet from the plot summary: "As the night progresses and Puck attempts to undo his mistake, both Lysander and Demetrius end up in love with Helena, who believes that they are mocking her. Hermia becomes so jealous that she tries to challenge Helena to a fight."
This change of scene is nothing new for Midsummer, which Grady noted has been done around the world in styles/time periods that include the Old West, silent movies, even (for whatever reason) disco.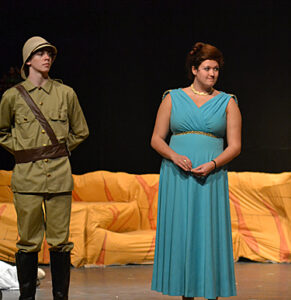 No Fear of Shakespeare
In selecting this fall's play for NRHS, Grady noted he was open to just about anything, but, "I really wanted to do something with Indian dancing." Grady also mentioned he was looking for a challenge, and naturally thought of Shakespeare. "I have  never done Shakespeare; I've dodged it for 34 years," he shrugged.
Despite Shakespeare's volume of work, Grady said it wasn't easy to find a play for the high school. "All of these plays have six to eight characters, and we have all these kids," he explained. Friend and Shakespeare aficionado Lynne Johnson pointed out that Midsummer might work, with its flexible assortment of fairies and nymphs, and opportunities to get in some Indian dancing.
Grady added that Johnson even conducted a  "Shakespeare workshop" for the cast after Grady selected the play. Johnson provided the cast with some perspective on the bard's work, pointing out such nuances as the fact that he often wrote about the lower classes of his day, in order to highlight the foibles of the upper classes, he said.
The actors may not have needed much encouragement. Grady noted, "When we announced the play, the kids were like, 'Yes!'" He reported that this is also the largest cast he has worked with at the high school, with almost 50 actors and actresses.
As Hermia, one of the lead characters, Stow's Merisa Kuovo described her onstage persona as "bipolar. Half the time I'm madly in love, half the time I'm just mad."
Playing Demetrius, one of Hermia's love interests, Christian Owen, also of Stow, termed his character "kind of a jerk. I get moved back and forth between two lovers — proving what a jerk I am."
Everyone agreed that Shakespeare's works are much easier to enjoy when performed instead of simply reading them in class. "You have to have it performed," Grady stressed. "It's easy to understand it when you see it."
According to Kuovo, once the plot is understood, Shakespeare's prose can be tough to shake. She laughed, "I'll start talking in 'Shakespeare' when I'm home now."
For Grady, Shakespeare is just the first leg of a bigger challenge. With the high school preparing to put on Les Miserables as its spring musical, he sighed, "This is the year of the challenges."
A Midsummer Night's Dream will be performed in the NRHS Auditorium Friday and Saturday November 22 and 23, at 7:30 p.m.; and Sunday, November 24, at 2 p.m. Tickets are $12 for adults, $10 for students and seniors, and can be purchased at the door.