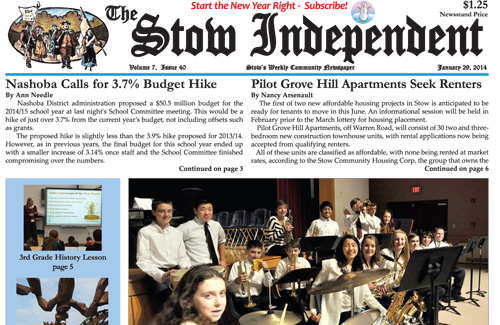 Along with the articles featured on our website, you will find the following in this week's print edition:
Pilot Grove Hill Apartments Seek Renters
The first of two new affordable housing projects in Stow is anticipated to be ready for tenants to move in this June. An informational session will be held in February prior to the March lottery for housing placement…
Caucuses Upcoming in Stow
While the political climate can seem mired in debate, Stow residents can make a difference in the state and national political scene, without the fuss of a major political campaign…
Hale's Males Politely Kick Tails
Ask Hale Middle School boys basketball coach Sam Peirce for a criticism of his team, and he racks his brain, then finally comes up with an answer.
"Sometimes," he says, "they're almost too nice."…
Past Tense: They Burned Down The Fire Academy (Part 2)

17th Century Stow Visits Center School
Community Photos and Announcements

Classifieds
Puzzles
And more!