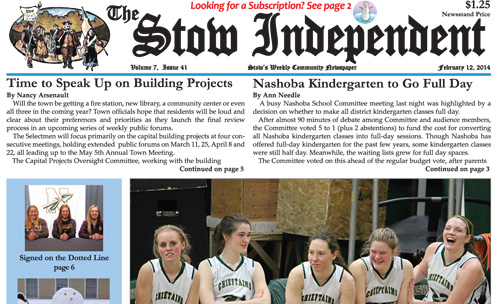 Along with the articles featured on our website, you will find the following in this week's print edition:
Hale Middle School Trimester I
Honor RollTime to Speak Up on Building Projects
Will the town be getting a fire station, new library, a community center or even all three in the coming year? Town officials hope that residents will be loud and clear about their preferences and priorities as they launch the final review process in an upcoming series of weekly public forums…
Grazing in the Grass
Stow's farm animal population may see a boost this spring, with some added Christmas trees on the side, if a few farmers have their way on Tuttle Lane and Sargent Field. The farmers are looking to lease the town conservation land recently put out to bid and are awaiting Conservation Commission approval to move forward…
Minuteman Agreement Up for Vote
Stow could see more predictable school assessments from the Minuteman Regional Vocational School if the regional agreement recently accepted by their School Committee is voted in by Minuteman's 16 member cities and towns.  The agreement could also mean big changes ahead in the school's regional voting system…
Past Tense: McCarthy's Whiskey

Three Nashoba Seniors Signed on National Letter of Intent Day
Obituary
Community Photos and Announcements

Classifieds
Puzzles
And more!