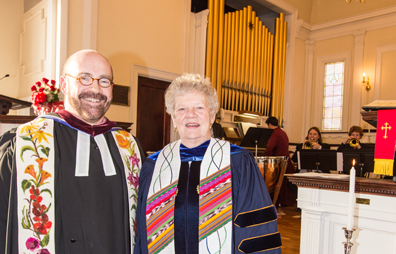 By Barbara Allen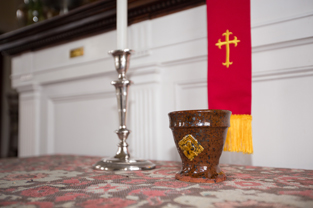 Neither of them remembered when they first realized they were related. "I think it was at Andover Newton," Rev. Beatrice Manning of Stow told The First Parish of Bolton pastor, Rev. Richard Jones.
It was the Friday before her installation as Associate Pastor; she and Jones had taken a short break from preparations for the celebratory service that would take place Thanksgiving Sunday, November 23, 2014, to discuss the significant coincidence.
The two had been students and colleagues at Andover Newton Theological School, but were initially unaware of their genealogical bond.
"I think we found out by accident," Manning speculated.
The ancestor the two hold in common is Pilgrim pastor, John Robinson. Although related through different family lines, the freethinking religious leader is great-grandfather to both, 13 generations distant for Manning, 14 for Jones.
"We are very distant cousins," Jones deduced.
This fascinating aspect of personal history has been kept alive by Manning, who led a family pilgrimage four years ago to Leiden, Holland, where the Robinson is buried. Pilgrims had initially settled there, drawn by the country's less restrictive religious climate. Half of the congregation eventually emigrated to America, meeting up wth the Mayflower as it sailed to Plymouth Colony; remaining members planned to join them at a later date. Robinson himself did not depart on the Mayflower, although some of his children did. He died before the next voyage.
When Manning arrived in Holland, she and her family were warmly welcomed by the descendents of Pilgrims who had chosen to remain behind, rather than risk relocation across the Atlantic. She visited the church where Robinson was buried, as well as the site of his last service and final words to the Pilgrims before their departure.
Two years later, when Manning made a similiar family pilgrimage to England, she noted a distinctly cooler reception.
"Pilgrims were acknowledged but not celebrated," she recalled, with a wry smile. Manning held a worship service at the site of the Pilgrims' capture, after their first failed attempt to leave England on the Mayflower. She related how they had then been imprisoned in the Guildhall. Sympathetic members of the Guild would let them out of their cells at night, to roam in the more spacious areas of the building.
The chalice that Manning used for the communion portion of her worship service in England honored the Guild's kindness to her ancestors; it was a reproduction, made of clay, as would have been the original, and which would have been crafted by a Guild member.
The clay chalice, as well as the hymn "We limit not the truth of God," based on the parting words of her many-times great grandfather to the Pilgrims, have been incorporated into Manning's installation service.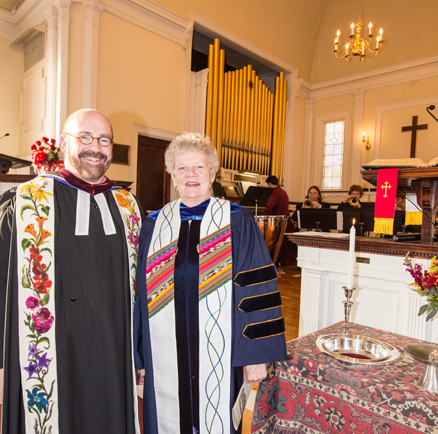 "The chalice exudes the power of a group gone underground," she explained. First Parish, intentionally ecumenical since 1931, attracted her with its desire to explore a variety of faith traditions, rather than being tied to one particular doctrine or belief.
"It's a church that reflects the break from more hierarchical churches, one that is more consistent with my Pilgrim roots," said Manning. "To seek the Holy as best I can."
Works for social justice are, for Manning, a strong sense of what church is. With a doctorate in sociology, in addition to her Divinity degree, as well as a long career in academia and public health, helping others has been a lifelong passion for Manning.
"Bea's greatest gift," Jones pointed out, "is her "muscular faith," which is expressed by a commitment to the well-being of all people."
Jones noted that he comes from a more pietistic background, which emphaizes a personal relationship with God, which then manifests itself on a more individual level. He added that he was confident their differences would make for a richer, combined ministry.
But he couldn't resist adding an interesting historic twist. In addition to being related to Pastor John Robinson, Jones and Manning, have other Pilgrim connections: Manning is a descendent of Plymouth Colony Governor, William Bradford; Jones is the 9th generation great grandson to Isaac Allerton, Bradford's assistant.
"We find it ironic that now Bea will be my assistant," Jones laughed.