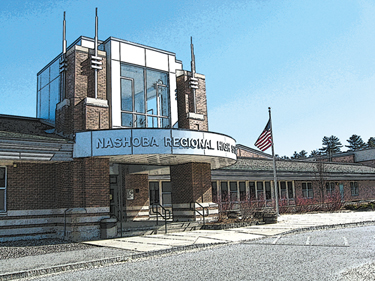 by Ann Needle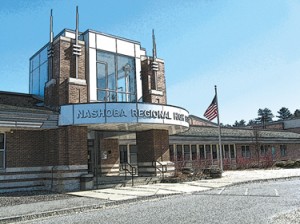 Space and time were the main requests of Nashoba District teachers at last Wednesday's School Committee meeting. With the proposed 2015/16 Nashoba budget premiering later this month, this meeting was devoted to roundtable discussions among teachers and administrators on the biggest needs at their schools.
About 50 faculty members attended the meeting at Nashoba Regional High School, explaining why high school employees made up more than half of the attendees. This prompted lots of discussion in most groups on the need for more space at the high school.
The many stories from the NRHS space crunch are familiar to most, including  lack of computer and Science lab space; reduced planning time when teachers have to loan out their room; and no permanent classroom at all for a specific Special Ed Math class.
NRHS German Teacher Nathan Prichard presented a stark picture of one everyday fallout from the space shortage. With the school forced to put some rows of lockers facing each other in a single hallway, "Try walking those halls when classes change."
Another area addressed was lack of equipment. According to English Teacher Monica Bailey, NRHS has not addressed equipment needs in areas such as the shop and carpentry, leaving some students at a disadvantage.  Describing NRHS as a "traditional" high school, designed to prepare most students for college, she pointed out that a lack of closer-by vocational technical schools means some trade-oriented students end up at NRHS, where they often feel left out.
"We are very, very good at preparing students for college — and this is essentially what the state tells us, too," agreed Center School Principal Kevin LaCoste. "We're shoving kids into boxes that don't fit. And about 10% of our students don't fit."
In another popular issue, there was a widespread call for more professional development time. This time for teachers is usually slotted into one of the half or (occasionally) full days scattered through the school year. However, the district has reduced this time over the last few years, responding to parent concerns about classroom time.
Prichard prompted lots of nods in his group when he maintained that most PD time in recent months has been spent on fielding information regarding changes in regulations from the state and federal governments. Another teacher mentioned that aides also need some professional development, which doesn't always happen.
BYOD "Not Working"
Also discussed was the district's BYOD (bring your own device) policy, which allows high school students to bring any Internet-connected device — from laptops and tablets to smart phones — into school for classroom work. (Lower grades are more restricted.) While other school districts have purchased computers or tablets for each student, the "bring your own" policy was Nashoba's less-expensive answer to bringing 21st century communication into classrooms. Declared NRHS English Teacher Kim Earley, "It's not working."
Earley explained that most of her students tend to use their phones for in-class research and assignments. Many report they are reluctant to lug their laptops to school, not wanting the extra weight in their backpacks, or fearing they will be stolen, she reported. Earley added there do not seem to be enough Chromebooks to go around — Nashoba purchased about 300 for the district — and it is difficult to monitor what students are doing on their phones.
There were fewer teachers and administrators present from the elementary and middle schools, but the familiar issue of limited budgets for classroom supplies came up. Lynne Weliver, a fifth grade teacher at Bolton's Florence Sawyer School, talked about how she has built a bookshelf in her classroom through the years — and filled the shelves with books — with her own materials and money, or through donations. Weliver remarked, "There's just no furniture budget."
In terms of academics, FSS Spanish Teacher Mary Coppinger-Fraser urged colleagues to get behind teaching foreign languages in the lower grades. "It improves cognitive thinking; it really gives you a much bigger bang for your buck," she commented. Currently, Nashoba students begin learning a language in the eighth grade.
At the end of the discussion, each group listed three priorities it believes the district should address. Superintendent Michael Wood said he would review these with the School Committee before releasing the 2015/16 draft budget.