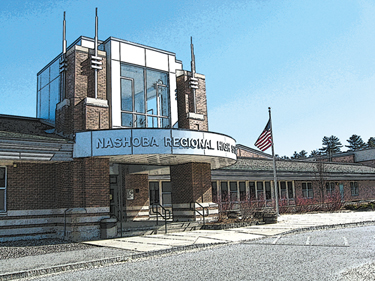 By Ann Needle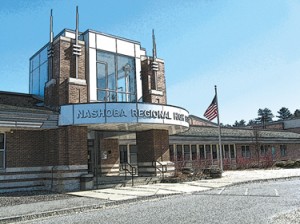 Last Wednesday's Tri-Town meeting had officials from the Nashoba School District's three towns debating whether to re-consider membership at Minuteman High School. The towns also discussed what sort of budget hikes the Nashoba schools could afford in the future.
Explaining that the night's discussion of whether to stay in the Lexington-based Minuteman's 16-town district was just that, Nashoba Superintendent Michael Wood assured, "This is the start of a conversation. As we look at our high school, we are running out of space."
And, while Nashoba Regional High School is building programs meeting a variety of students' academic needs in a comprehensive high school, Wood said, "Over the years, anecdotally, one of the reasons children have not chosen to attend Minuteman is distance." He added that this distance appeared to steer students to NRHS that would rather be at the technical high school.
Speaking from the audience, Minuteman Superintendent Dr. Edward Bouquillon countered that, in surveying students in the last few years, distance was not one of the top reasons accepted students didn't attend Minuteman. He mentioned that the biggest reason among these students was they simply opted for another school, with two-thirds selecting private schools.
Bouquillon also noted that, as perhaps the furthest town from Minuteman, Lancaster still has the most students attending from the Nashoba district. Minuteman reported that, by next school year, Stow will have 19 students at Minuteman, Bolton will have 10, and Lancaster will have 32. And, with 15 applications for next school year, Lancaster should have one of the biggest enrollments in the school, Bouquillon reported.
Switching technical schools may be a moot point. Lancaster Selectman Jennifer Leone explained that her town began looking into leaving Minuteman when the school first proposed updating the regional agreement governing members. (The new agreement would give towns sending more students to Minuteman somewhat more weight in making spending decisions, but would also have these towns carry more financial responsibility.) However, she said Lancaster found most of the closer technical schools were filled.
Bolton Town Administrator Don Lowe noted that Montachusett Regional Vocational Technical High School on the Fitchubrg/Westminster line, one of the closer technical schools to Bolton, has over 300 students on its waiting list.
In other concerns, Minuteman currently is looking to fund a  $100 million+ renovation. But Bouquillon said recent changes in the law require non-member districts to start contributing to building projects supported by the state, which could help the school's finances.
Meanwhile, Minuteman School Committee Rep. Alice DeLuca of Stow cautioned, "The whole point of having two excellent school districts is to offer more to our students. We shouldn't be butting heads."
Bouquillon pledged to send Nashoba and town officials the survey data regarding why some accepted students have turned down Minuteman.
 Sustaining the Nashoba Budget
With the Nashoba School Committee approving its $50 million proposed budget on March 25, Tri-Town representatives contemplated if this spending can be sustained over the coming years.
After several debates, the SC managed to trim the proposed +5% increase over 2014/15 down to about 4.2%. As part of that deal, Nashoba increased planned spending of its $2.2 million in Excess & Deficiency cash reserves, from $1 million to $1.6 million. Though the district insisted the $1.6 million makes it less likely it could replenish E&D next year back up to the $2 million level, as it traditionally does, the towns protested that their chronically tight budgets and high tax rates called for the spending.
With the school choice program scaling back in the district, and no new revenue coming in,"We can't take [$1.6 million] out of E&D next year — who knows how much will be there," remarked SC Rep. Maureen Busch of Stow.
But former Bolton Selectman David Lindsay countered that, at least in his town, officials balk most years that they won't be able to replenish its free cash — and it always does, which Lindsay said makes him wary. He suggested that a 2% or lower annual hike in Nashoba's budget will be the only way to keep future spending bearable for its towns.
However, estimating that personnel makes up about 80% of Nashoba's budget, Michael Wood warned that annual increases in personnel salaries alone will be about 3.5% through fiscal year 2017.
"Going forward, I would recommend you look at cost containment for building [back] your assets," said Stow Selectman Tom Ryan. He noted that some districts in the state have been "hobbling along" by cutting administration by as much as 30%.
The general agreement was that the 2016/17 budget be discussed much sooner than usual in the school year.