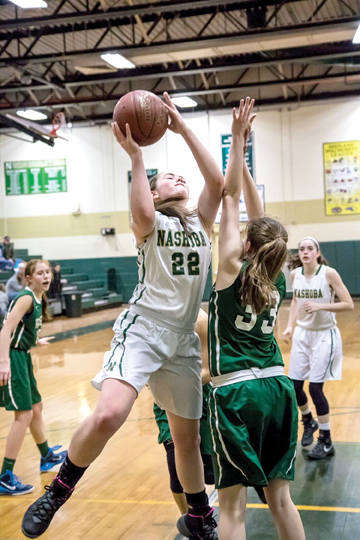 By Jess Thomas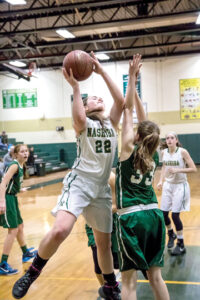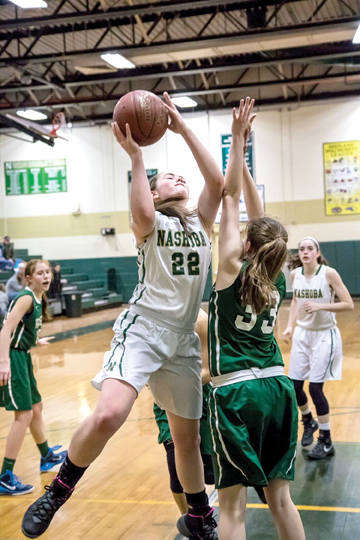 The Nashoba Regional High School girls basketball team fell 56-38 at home to a solid Wachusett Regional club on Tuesday night.
The Mountaineers jumped out to a 7-0 lead in the first 2:30 and never looked back as turnovers and missed shots plagued the Chieftains early.
After several magical runs deep into the postseason over the last few years, Nashoba only has one senior this year and is looking to younger players to step up in the varsity spotlight.
"We continue to get better," Nashoba head coach Beth McNamara said. "These kids are working hard, so I think all of that hard work will pay off."
The Chieftains fell to 6-5 overall with the loss, but had rolled off three consecutive wins prior to Tuesday night.
Wachusett improved to 8-1, currently first in the Mid-Wach A, and they showed their strength against the Chieftains early and often.
Mya Mosley and Hannah Everidge led the Mountaineers with 16 and 14 points, respectively, and Hallie Johnson dropped 11 points, all in the second half to lead them to victory.
After leading 16-7 after one quarter, Wachusett extended their lead to 26-9 in the second quarter, but Nashoba used an 8-0 run to get back into the game.
The Chieftains held Wachusett to zero points in the last 4:45 of the half.
"I'm proud of the way we played, I think we played hard," McNamara said of her team's effort. "We never gave up, and that's what this team does. They just claw their way back and never quit."
Nashoba's scoring was spread very evenly, as senior guard Kevyn Green and freshman forward Brienne Donahue each pitched in nine points.
Junior guard Samantha Maglione tallied eight points (six in the second half) and sophomores Sarah Gillooly and Meaghan McCarthy scored six each.
The Chieftains scored the first basket of the second half, but Wachusett stormed back with an 11-0 run that made the score 37-19.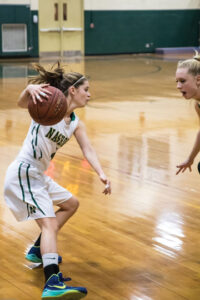 "They (Wachusett) shot really well," McNamara said. "I thought we played pretty good defense for the most part, but the second we left them open, they nailed it, so that's a good lesson for us."
Nashoba climbed back with another 7-0 run in the fourth quarter to get within 11 at 46-35 with three minutes to go, but back-to-back three pointers by Johnson and Everidge effectively ended the game.
The Chieftains have nine games remaining in the regular season schedule, with four of them being Mid-Wach B league games.
The team currently stands at 5-2 in league play, and will look to jump higher in the standings as they improve their skills.
McNamara has a simple message for her young club as they progress deeper into the season.
"Just continue to work hard and continue to get better," she said.
Nashoba will look to do just that and pick up a 'W' against Westborough on Friday on the road.