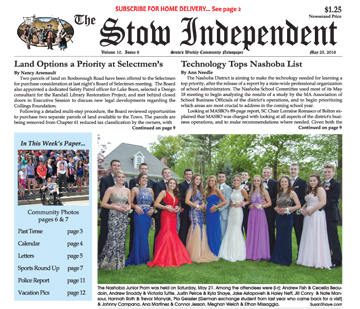 Along with the articles featured on our website, you will find the following in this week's print edition:
Land Options a Priority at Selectmen's
Two parcels of land on Boxborough Road have been offered to the Selectmen for purchase consideration at last night's Board of Selectmen meeting.  The Board also appointed a dedicated Safety Patrol officer for Lake Boon, selected a Design consultant for the Randall Library Restoration Project, and met behind closed doors in Executive Session to discuss new legal developments regarding the Collings Foundation…
Mosquito Control Adds Services
Mosquito control has been on the books as part of State legislation since the 1970s. Since that time, 41 communities have opted into regional mosquito control programs, including Stow. As of this year, disease monitoring will now include the Zika virus and communities can also take advantage of beaver control measures administered by the same agencies attacking the mosquitos…
Kids-A-Lot Founder Moving On
After almost 30 years, there is a big change coming to a place many Stow children hold dear — but, hopefully, these children will not notice. Maryann Deignan, director of child care center/preschool Kids-A-Lot, is turning the school over to new owners as of May 30…
Also in this week's Print Edition…
Past Tense
Community Photos and Announcements

Classifieds
Puzzles
And more!