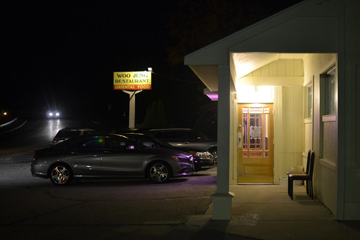 By Ann Needle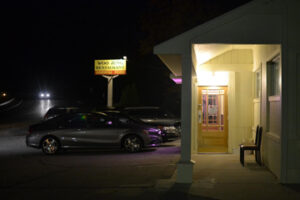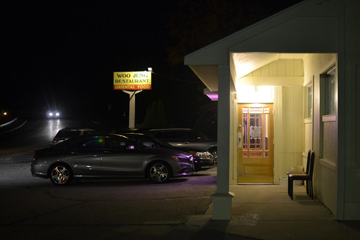 The restaurant is in the middle of nowhere, its customer base left town years ago, its décor is not exactly cutting-edge — the odds are stacked against survival. Yet Woo Jung blazes on, making a brisk business of its luscious Korean food in the middle of Ayer.
Trust the Needles not to send you on a half-hour road trip without a reason (our twisted sense of humor aside). For years we avoided the journey through the Ayer rotary — everything goes through the Ayer rotary "out there" — because even the high praise of Woo Jung from friends Cara and Craig Schomp was not enough. We should have known better, given the Schomp household contains vegetarians, meat-lovers, and carb-counters. No eatery can be reasonably expected to trigger chop-licking from that gang.
But, this summer we found ourselves in Ayer, and figured it was time to put the Schomp's chit-chat to rest. And gee willikers, it was an evening to savor. Jeff and I started off with the Kim Chi Pa Jun, perfectly crispy pancakes, not too oily, with Korean kim chi cabbage (think scallion pancakes, but with the cabbage). As with all other tables, we were served four or five small dishes of Korean favorites to munch on, including kim chi, zucchini, and American cabbage, all in slightly pickled sauces. There were enough of these tidbits to feed a table of eight.
My plentiful MaPo Tofu contained ground pork, tofu, and vegetables and was not overly sauced, which is easy to do with this dish. It is advertised as spicy, but ignore that; New Englanders set a low bar for "spicy". Jeff was declared his Bulgo Gi — sliced beef in house sauce — "excellent."
Into the middle of this big feed walks Craig Schomp, one of many picking up take-out for his clan. Yes, he drove to Ayer for TAKE OUT. Later, Cara Schomp noted the family has been going here for at least 15 years, and praised Yang Jang Pil (wide rice noodles with pork, surrounded by cold seafood dressed with hot mustard) as her top dish. Another testament to the top-notch food was the wait for tables that started after we were seated. Given that local legend credits Woo Jung's earlier success to the now-defunct Fort Devens down the street, the restaurant has pulled off a slight miracle.
Woo Jung Squared
We brought our son and his friend along for the next visit, which was just as stomach-bloating as our summer outing. Our young-adult son was, of course, hungry — that's his job — and maneuvered his paying parents — that's our job — into ordering both the Pa Jun (scallion pancakes) and Yaki Man Doo (beef dumplings) to start. The scallion pancakes were the same crispy, tasty deal as the Kim Chi Pa Jun, served as a heaping pile, and the dumplings were big and juicy. Throw in the free before-dinner dishes, and sonny ended up taking home half the appetizers.
For dinner I stuck with the MaPo, because I really, really wanted more MaPo. Our server guided the rest of the gang to some of the more popular dishes. Jeff went with the Korean staple Bi Bim Bab, featuring some very tender shredded beef and a fried egg atop white rice.
Sonny relished the Gaan Poon Gi, a battered chicken tempura-type dish served with vegetarian fried rice. While he loved the chicken, he noted the rice as a standout, given it was white, lightly fried, and had an almost-sweet texture. His friend ordered Yaki So Myun, a tank of soup with fried noodles, pork, and baby shrimp. After the appetizers, as much as she apparently adored the soup, she took most of it home.
The menu is sizable, but it is not online, given Woo Jung does not seem to need a web site to advertise its goods. It also does not need a liquor license; grab some beer or wine and bring it on in. And, for those who would rather not be driving Ayer's dark-ish Main Street at night, rejoice, because it is open for lunch, including on the weekends, and serves lunch specials mostly under $10. Whenever you go, expect a clean, older, homey place that successfully depends on its food and friendly wait staff to keep it going.