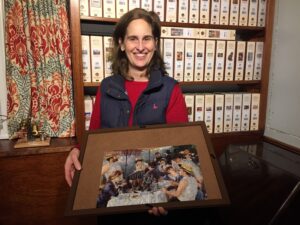 By Apara Borrowes
When Marta Burbeck discovered Wentworth wooden jigsaw puzzles in England several years ago, she had no idea she would be starting a puzzle library of her own as a way to connect people and build community. Doing puzzles with others is "an old-new idea," said Burbeck, as she talked about her jigsaw puzzle lending library, based in Marlboro and aptly named Piecefully Yours.
"My purpose is connecting pieces as well as people," she shared, "and I'd like to bring back the puzzle parties that were so popular early in the twentieth century. In our time when media communications often replace face-to-face socializing and conversation, I feel we've lost aspects of the art of relaxed social interaction."
"I'm offering to help people get together to socialize over puzzles, tea, and desserts, to slow down and connect with a pleasant shared activity. There's no winner or loser, and each person can participate as much as they choose," Burbeck said. "It's a way people can get to know each other, and people can do this across generations."
"My family is crazy about jigsaw puzzles," said Stow resident Laura Reiner, who rents puzzles from Burbeck regularly. "Wentworth is the Cadillac of jigsaw puzzles. My mother, who is 90, especially loves them, and we have a great time doing them together when I visit her in her retirement community."
Reiner said she appreciates being able to rent puzzles. "It's a nice way to have puzzles so you don't have to buy them all," she said. "You can get your own images put on puzzles, too," Reiner added, noting that Burbeck provides this service. "I just got a puzzle of our family's favorite vacation spot for my mother. She will be so excited when we give it to her. And there is evidence that puzzles help us maintain mental abilities."
"Puzzle rental is something very new today," Burbeck observed. As she began to collect puzzles, she discovered the British Jigsaw Puzzle Library, and learned that the Royal Family is a subscriber.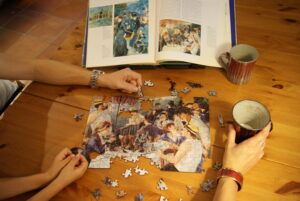 Over time, Burbeck created her own puzzle lending library. She hand-delivers them, and limits her clientele to those within a short distance of her Marlborough business, keeping it local. Burbeck exudes enthusiasm as she talks about the potential for bringing puzzles to the elderly, to schools, libraries, and rehabilitation centers, and she's interested in volunteers to help with this.
"Puzzles can help people relax and shift out of stressful activities and thoughts," observed Burbeck. In England, she said, some high officials and business people keep puzzles in their offices for the calming effects of puzzle assembly. The Wentworth Puzzle website claims that puzzle work brings one into the state of mindfulness, being fully present in the moment without stress.
"I'd like to build a network of people interested in these puzzles," Burbeck continued. Wooden puzzles offer not only the enjoyment of assembly, but also provide themes for discussion and learning. There are puzzles on historical topics, cultural themes, sports, travel, animals, fine art images, holiday and seasonal themes, and more.
For rental, Piecefully Yours offers puzzles with from 40 to 750 pieces, for age 3 and above. The company also sells puzzles and crafts from England and Burbeck's native Hungary. Rentals can be per order, or through membership, with a $12 minimum charge for rental, before the delivery charge of $5.
To encourage people to have puzzle parties in their homes, Burbeck will bring the puzzles to your door, along with tea and home-baked deserts if you wish.
Burbeck enjoys the history of jigsaws, and explained that the earliest jigsaw puzzles were made in Europe as educational tools for children in the 1700s, and spread to the colonies. When the 1908 puzzle craze began in New York with more puzzles created for adults with engaging themes, entrepreneurial women soon set up shop cutting jigsaws. Williams wrote, "Hundreds of women and girls engaged in this curious home industry."
Lavish high society parties offered food, drink, and many tables set up with puzzles, the guests wandering from one puzzle and conversation to the next, noted Burbeck. The puzzle craze spread and some libraries established puzzle-lending, giving the less wealthy more access.
During the Great Depression, families took up jigsaw making as a cottage industry, starting a second craze. Burbeck noted that puzzles provided low-cost entertainment at home, and gave people a sense of achievement in the midst of troubles. According to Williams, in 1932, cardboard die-cut puzzles launched an industry producing ten million puzzles a week by 1933. In time cardboard puzzles replaced jigsaws.
Burbeck emphasized that wooden puzzles are different from cardboard. They vary in difficulty, and the tactile experience of working with wooden puzzles is unique. Wentworth puzzles are known for their unusual puzzle piece shapes, tricky border pieces, and "whimsy" pieces, which are cut to echo themes in the art on the puzzle, and take recognizable shapes, adding to the fun.
"I'd like to feature local artists on puzzles in my rental library," said Burbeck. "I'm looking for interested artists, and I'd like to explore how we can help each other. For me, it's all about my local community and making connections with and for people."
Visit www.piecefully-yours.com for further information.
C