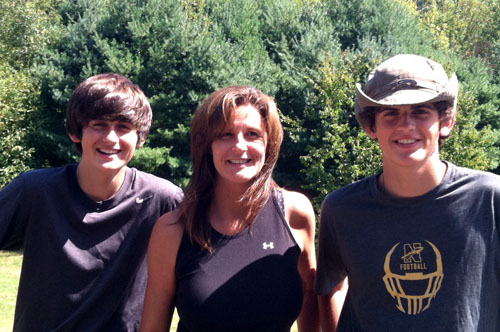 By Ellen Oliver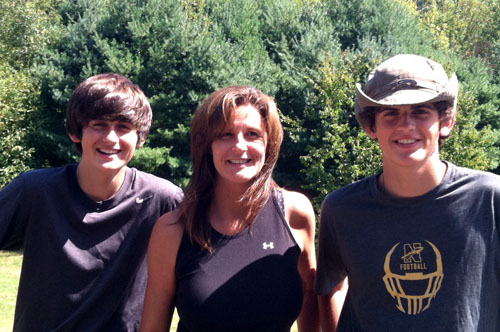 On Sunday, September 9, Starz Salon in Sudbury is holding a Cut-A-Thon to support the Tecumseh Foundation, set up by William and Vanessa Hurley in honor of their son, Will, who passed away in May.
Starz will have ten stylists available from 11:00 am – 4:00 pm for simple hair cuts. Vanessa Hurley, a stylist at Starz Salon, said she's looking forward to the event. "I'm hoping it will be really busy," she said.
If you don't need a hair cut yet, there will also be baked goods available for sale at the salon, including cake pops and chocolate covered Oreos, provided by a salon employee who is also a professional baker. The Cut-A-Thon will be a family effort for the Hurleys with Ben, 15, and George, 14, overseeing the baked goods tables.
The Hurleys named their eldest son William Tecumseh Hurley to honor the Native American leader. Now they hope the Tecumseh Foundation will be ableto help guide young athletes along the path of taking proper care of their bodies to increase competitiveness and reduce injuries.  "It's truly for amateur athletes at the middle school and high school to allow different team sports access to professional trainers in addition to their coaches," explained Vanessa. "It's a way to give back to the high school and middle school athletes."
The Hurleys saw first hand what specialized training can do when Will worked with a quarterback coach. "We sent Will to learn correct techniques and get proper training. It really helped his game," said Hurley. "My husband thought it was a great way to do something in Will's memory."
Hurley also told of friends who themselves have been hurt or have children who are repeatedly injured and hopes some of the lessons learned will decrease the times athletes are sidelined.
Will, who graduated in 2011, was well known as the record-breaking quarterback for Nashoba, but he also was on the track team and enjoyed pick up basketball and hiking. Vanessa said they wanted the Tecumseh Foundation to be able to touch many different athletes. "There's nothing focused on just one sport, no discrimination; we're aiming right across the spectrum," she explained. "We hope teaching all athletes the correct way to train to prevent injury will put them on the right track."
The Tecumseh Foundation has already received one request for training support for a team and the Hurleys will be working with Athletic Director Tania Rich at Nashoba Regional High School to iron out the process for funding requests. "We are working on this with the school and working with Tania, so people will come to her with requests," said Vanessa.
While the Cut-A-Thon is limited to just haircuts and appointments are not necessary, Vanessa does suggest calling ahead of time if you are bringing in a whole family.  She also said she is enjoying the support of her co-workers and salon owner to keep the day moving. "Everyone is coming in to help – assistants to wash hair and clean up, receptionists, even the manicurist is helping out," she said. Starz Salon is located at 365 Boston Post Road in Sudbury. Their phone number is 978 443 5454.