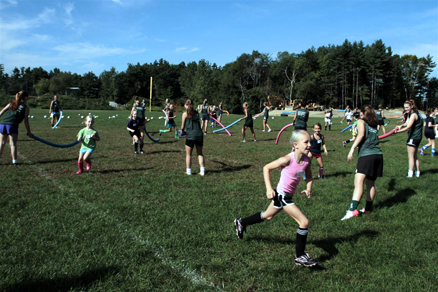 By Ellen Oliver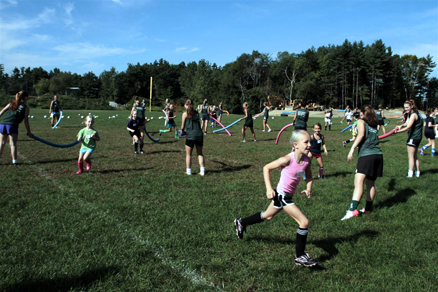 While dreaming up ways to raise funds for the upcoming season, the Nashoba Girls' Soccer team (NGS) wanted to do something that tapped into their core strengths. "We had always talked about doing a clinic for younger kids," said Jessica Miller, a senior on the team. "All the seniors wanted to do it." So Miller and her fellow seniors: Laura Courtney, Julie Czapkowski, Eileen McGarry, Julia Reverdy, Kim Slade and Anna Walsh tackled planning and running a three-day girls soccer clinic, an event far more demanding than holding a car wash.
Expecting about 20 kids for a first time camp, the NGS clinic hosted 57 campers, ranging in age from kindergarten to eighth grade, over the three half day sessions on August 20-22. They had so many campers, they ran out of t-shirts. "Yes, we made money, but it's also a positive experience for the older and younger girls," said NGS Varsity Coach Pam Vaughan. "I hope they get that contagious feeling that comes from giving back."
The clinic was arranged with two seniors running stations for passing, shooting, and ball control, plus McGarry, who is the team's goalkeeper, holding a special session for the girls interested in taking the position in the net.
The groups, separated by age, rotated through the stations and the NGS seniors were in charge of preparing the curriculum, including games and drills, and adapting it for each level. "We had certain things to work on, like dribbling," explained Walsh. "For each group, we altered the games. So for the eighth graders, we might have three defenders to practice the skill, but for the kindergartners only one."
The formula may have been challenging, but the happy campers indicated that the clinic was fun – and they learned new things, too. "The coaches really take their time with you, they were really sweet," said eight-year-old camper Gigi Lorenzo-Keane. Gigi said she enjoyed obtaining new skills, even doing the goalie training, so she could learn "all the positions I needed to know to be a successful soccer player."
"Eileen has been to a ton of camps," said Vaughan, describing how McGarry designed obstacle courses and very specific drills to pass on her knowledge to the younger girls. "They got real goalie training," said the coach. Along with her sister Gigi, Maggie Lorenzo-Keane partook of the special goalie camp. "They taught me so many technical things," said Maggie. "I had no idea how to fall. If you don't learn it right, you can get hurt."
Along with the seven seniors, almost 40 underclassmen pitched in to support the stations, corral the campers, and escort them to the bathrooms. "We had a lot of great help from the underclassmen," said Miller. "They were great, helping on drills or cheering and giving pointers."
Aside from getting a pre-season warm up playing in the sunshine with a bunch of little kids, the players got firsthand experience with the responsibilities of running a camp including  the registration process, arranging a rain-day alternative, handing out t-shirts and keeping the campers engaged. "They were in charge of the campers and the high school kids helping out. These girls are their potential teammates," said Vaughan.
They also got to see things from a coach's view. "I picked some of the games myself," said Walsh. "Some of them were games that were never my favorites, but were the best for what I'm trying to teach. I understood them more from that perspective."
"The interaction with the kids was the best," said Miller. "They seemed really comfortable with us." Nine-year-old Abby Crowell said, "They really help you. If you are having trouble, they push you until you get it right, but in a good way; they were always positive." Walsh reiterated Miller's and Crowell's words, saying, "I liked that the little girls love seeing the older girls. And they definitely learned. They would do something, we would tell them how to improve and the next time they did it better."
On the last day of the clinic, the campers were given the NGS schedule and invited to watch a match and maybe even take the field to escort the varsity players out before a game. One camper told her mother, "I want to go; I'm part of the team."
Coach Vaughan fosters a spirit where the players know they are a member of the Nashoba Girls Soccer team for life. Contributions by former players are felt by current players thanks to Vaughan's stories lauding perseverance, teamwork, and determination. By reaching out to the younger girls, NGS is extending its legacy, including girls who don't yet roam Nashoba's halls, but already feel they are part of NGS.