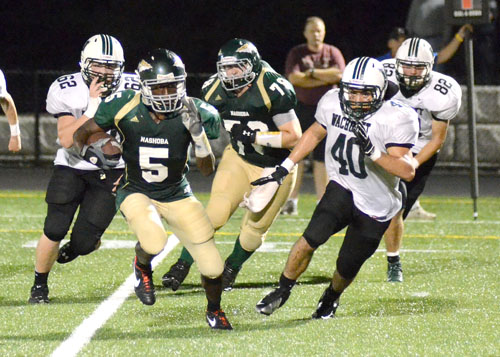 By Jordana Bieze Foster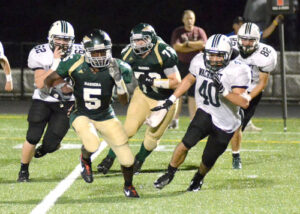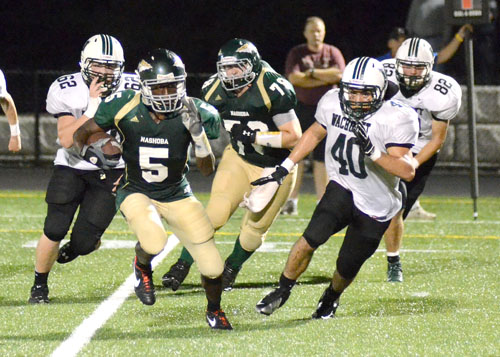 The artificial turf field is new and so are some of the names on the roster, but in dispensing with the visitors from Wachusett 44-14 on Friday night, the Nashoba Regional football team looked very much like the team that capped an undefeated season with a Super Bowl title a year ago.
The Chieftain defense was as dominant as ever, keeping the Mountaineers off the scoreboard until the waning seconds of the third quarter, by which time all of the starters were on the sidelines. Speedy Stow running back John Ojukwu started his senior season with a pair of touchdowns but was hardly Nashoba's only offensive weapon as six other Chieftains made scoring contributions.
"It was a great start to the season. I couldn't ask for anything better," said head coach Ken Tucker. "The offense was efficient. The defense played great. Everybody contributed."
One of the few questions surrounding the team coming into this season focused on the kicking position, left vacant after Brandon Steff's graduation. It's not a question any more. Stow junior Drew Korn, a former soccer fullback who had never played competitive football before Friday night, completed six of six extra points and nailed a 30 yard field goal on Nashoba's second offensive drive of the game.
Field goal opportunities for the Chieftains have been infrequent in recent seasons, so Korn wasn't expecting his first such opportunity to occur so soon.
"It was definitely a surprise," Korn said. "I just tried to push any thoughts out of my head, but still in back of my mind I was thinking about not messing up. But all the practice we've done really helped me pull through. I really have to thank the team and the coaches for accepting me and helping me learn the game."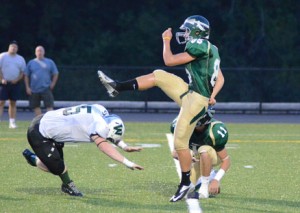 Korn's deep kickoffs also helped Nashoba win the field-position battle all night, starting with the opening kickoff, which the Mountaineers ran out of the end zone only to stall at their own 4 yard line. A Wachusett punt, returned by junior Eli Williams to the 6 yard line, set up a touchdown run by senior running back Andrew Cross on the Chieftains' first play from scrimmage.
A fumble recovery on the 34 yard line by junior Frankie Chiodo led to Korn's field goal, and Nashoba led 10-0 at the end of the first quarter. Ojukwu then scored twice in the final three minutes of the half to extend the lead to 24-0.
The first of those scores, a spinning power run from the 2 yard line, was a little bit of payback for some chippy play by the frustrated Mountaineers.
"Cross and I have kind of a system where he's the power back and I'm more like the speed back," Ojukwu said. "But the defense had really been trying to take me out of my game with some cheap shots, and on that touchdown I really just wanted to jam it down their throats, so I asked coach to give me the ball."
The Chieftains quickly forced a Wachusett punt, which Ojukwu returned to the 6 yard line. On the next play, he scampered into the end zone for his second touchdown of the game.
On the third play of the second half, senior Brady Schartner took a pass from senior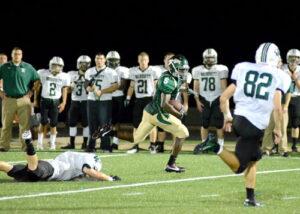 quarterback Jack Sarnoski 69 yards into the end zone to extend the lead to 31-0. Chiodo's one-yard run made it 38-0 midway through the third quarter. Wachusett finally got on the board in the final seconds of the third quarter with a nine-yard run from Brandon Miller.
Even with the starters watching from the sidelines, Nashoba's offense retained its momentum in the final quarter. Fueled primarily by carries from Stow sophomore Greg Gothie and Stow junior Matt Sabourin, the Chieftain backups engineered an 85-yard scoring drive of their own, topped off by junior quarterback Matt Mudgett's one-yard sneak into the end zone to make the score 44-7. Wachusett scored once more in the last minute of the game on a 29-yard run from Mike Owusu.
"We played great on both sides of the ball," Ojukwu said. "The whole team was really able to show their talent. From my perspective, it would be awesome for me to score four touchdowns in a game, but it's even better for the team if a lot of kids are able to score."
Next up for the Chieftains is a road trip to Fitchburg. Kickoff is scheduled for 7 pm. The Red Raiders beat St. Peter-Marian 20-0 last weekend.