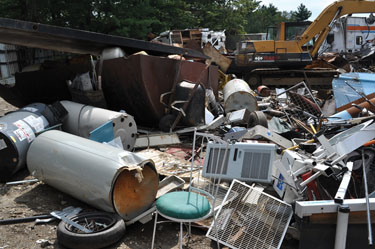 By Nancy Arsenault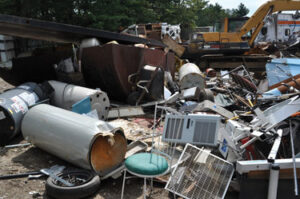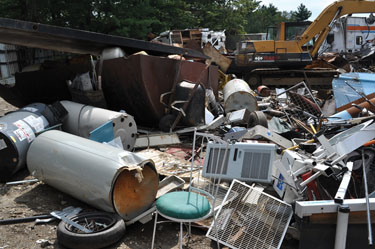 Before you undergo your next house or garage cleanout, consider what some local experts are saying about seemingly worthless junk. These days, everything from costume jewelry to old hand tools, lawn mowers, trophies, and broken appliances may be worth a lot more than you think.
It's all about metal. The price for scrap metal today is very high, inching back up to the all-time record set in 2008. This industry upturn is sending professional buyers to Yard Sales, combing for items that can be resold for a high price to a dealer or reseller. Thieves are targeting homes and construction sites and making off with copper plumbing and pipes. In some parts of the country, metal railroad ties are being stolen and bridges nearly dismantled by metal thieves.
So how can you cash in on this lucrative market? Before you throw pipes from a kitchen or bathroom remodel into the dumpster, consider taking them to a buyer of scrap metal.  While you are loading up, throw in your outdated or non-working appliances. Is your garage filled with hubcaps and discarded car batteries? Throw them in too, along with that rusted gas grill that hasn't seen a steak in years.  Before you pay to have the stuff hauled away, find out how much you can get paid if you bring it to a scrap yard yourself.
A short drive to Berlin Auto Parts brings you face to face with the scrap metal trade. Junk car buyers are now also buying and selling all kinds of metals, purchasing much of it from local homeowners and small business owners.
Vaughn Thompson, owner of Berlin Auto Parts, is following in his father's footsteps in the family business, but today that business reaches far beyond the immediate area. Asia and other foreign markets are clamoring for American scrap metal to melt down and make into steel for new construction projects.
According to Thompson, while the western US sends its scrap metal to Asian countries, the eastern US is supplying the country of Turkey.  So while you may never make it to such exotic lands, your repurposed lawn mower could be part of the next Turkish office building.
Thompson is a licensed buyer of scrap metal, a designation that is meant to assure buyers that he will pay a fair price- a price on some commodities that changes daily.  Right now, copper has the best return, but according to Thompson, other metals are also in demand.
A seller must present a photo ID which remains on file, along with a record of pieces sold. This helps police investigate the trail of stolen items, like Stow's recent copper pipe thefts, that wound up in a Worcester scrap yard.  Thompson said it's nearly impossible to know if scrap metal has been stolen, so accurate records and easy access offered to police, helps keep the scrap metal business , in most cases, honest.  As for cars, those must be presented with a legitimate title in order to be sold.
If the idea of collecting all of your junk and bringing it to a junkyard does not appeal to you, put your metal out on the curb with a FREE sign and it will often disappear in a day or two, according to Thompson. The quick payout for scrap metal has created a home business of junk scavengers who troll the streets looking for discarded materials they can sell.
When Yard Sales are a Gold Mine 
What about those items gathering dust in your attic, basement and dining room sideboards? According to Kevin Shaughnessy of Countryside Trading in Littleton, the high price being paid for gold and silver is making people think twice about keeping some family heirlooms. Though they may have sentimental value, their market value can have a significant impact on the family finances in these tough economic times
"Gold is at the highest it has been in five months and silver in eight months," he said, explaining that the heavier the weight of the piece, usually, the more money it will bring.  "I recently paid $100 for a sterling silver spoon," he said.
Certain brands that have stood for quality in past generations, will fetch the most money today, including locally produced Shreve Crump & Lowe pieces, and others from Jensen and Tiffany.  He said the gold used for jewelry in the 1970s and 1980s is better than the white gold of the 1940s thru 1960s.
"Every piece of costume jewelry is not the same," Shaughnessy said of the many silver and gold trinkets displayed at yard sales. "Those rope chains from the 1980s are what's being bought up now," he said.  Some people have come in with these "disco-era" chains and sold them for enough to make a mortgage payment, he said.
Shaughnessy cautions that while owners of some of this jewelry may not see the value, to a dealer, the real quality of the metal shines through. Shaughnessy said some people will sell an entire box or tabletop of seemingly worthless costume jewelry to someone who offers to buy it all. Most likely, that buyer has an eye for what can be resold to a place like Countryside Trading.  He also cautions against owners who mistake silver plate for sterling silver. "Most consignment stores won't even take silver plate. It was over produced," he said, saying it has little resale value.
Woodworking tools from earlier decades are another item getting a high price in resale. "Chisels, planers, things like that," said Shaughnessy, explaining that those types of tools are not as durable as the others and are less common.
"I've seen people who don't need the money, becoming more fiscally responsible in these times, and bringing things in to sell that have been sitting around. Maybe they inherited them, maybe they are trying to deal with an estate situation, maybe they have old wedding presents they just never use. They sell them and are paying off credit cards or putting the money into buying gold and silver bars.  It has become very acceptable to sell items and make a better investment," he said.