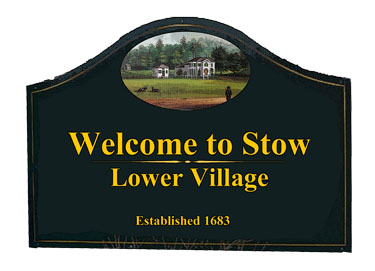 By Nancy Arsenault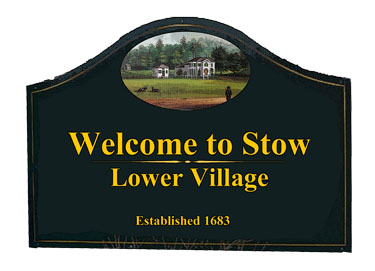 Stow last voted to create an Economic Development Commission in 1966, but for reasons unknown today, that Commission was never actually formed.  Now, 46 years later, with a limping commercial center, vacant storefronts and several parcels of open industrial land in Stow, one Selectman is hoping to revive the concept of the Commission and bring vitality back to the business community.

"We can't take action in a vacuum, and right now, there is  no mechanism for business and government to talk," said Selectman Jim Salvie. He and Karen Kelleher, Planning Board Coordinator, last week hosted the first roundtable discussion in recent years, involving the Stow business community and a variety of civic leaders. Over two dozen people attended the meeting,  including property owners, individual business owners, land owners, and members of various town committees.

"The Lower Village is the eastern gateway to town, and it needs help," said Rich Presti, owner of the property where the Steppingstones School was formerly located on Great Road. "It's not just limping, it's bleeding," he said, conceding that his property is indeed an eyesore and in need of complete revitalization and rebuilding. "But I can't do that until I am guaranteed two big anchor tenants like a pharmacy and medical offices, or a bank," he said.

Those tenants would make it viable for him to renovate and rebuild that entire corner, transforming it into an attractive retail area. While willing to put the money into renovation, Presti said he cannot attract tenants without a public water supply, beyond what is allowable and affordable on his own property.

His concerns about water were echoed by many businesses, as were issues about applicable zoning, the enforcement of zoning and bylaws, and lack of any interaction with town government except when it is time to pay a fine or renew a license.

Susan Perry, co-owner of Steppingstones School, spoke of her recent relocation to a property on Gleasondale Road, for which many permits and inspections had to be obtained from DEP and other state agencies, as well as a list of requirements and subsequent inspections from the town regarding licensing and permitting. "Kate Hogan was my advocate," said Perry. "Why do I have to call my State Rep after 22 years in this town? I shouldn't have to go to that level of advocacy to have a business in this town."

Salvie and Kelleher spent the first hour just collecting concerns and comments from the group. They  heard of overzealous permitting and inspecting requirements from the town fire department, to unrealistic waiting periods and permitting fees, to the appearance that one town group does not talk with another while the businesses essentially jump through hoops to please all parties, in order to obtain necessary approvals.
The lack of a water system in Lower Village is said to be crippling future expansion and development plans of any business looking to grow, while properties remain vacant, unable to attract viable tenants, for the same reason. Zoning bylaws are thought to be outdated and not clear in their intent, leaving interpretation open to the will of the current board members overseeing their application.

Salvie summarized that an Economic Development Commission, to essentially bring the voice of the businesses to town government, is in desperate need.  The group considered various ways for a Commission to be beneficial to both business and town government. They determined that it should be made up of business people – property owners, store owners, retail tenants, restaurants, golf courses, industrial site owners and tenants, home based businesses, etc –  but recognized by town government, almost as the Agricultural Commission is modeled.

The Agricultural Commission has no town government appointees on its Board but is made up entirely of town farmers, growers and orchard owners.  When someone in their industry has an issue or problem, the Board meets with that entity to evaluate the problem and propose potential solutions. Those solutions may or may not involve town intervention. If something like a Town Meeting vote, Selectmen decision or legal intervention is required, they are a recognized town body that may come before the public or a town board in any setting and bring their issues forward.

"We have power, we have a budget, we count," said Liz Painter of Shelburne Farm, a member of the Agricultural Commission. "As a group, we have the authority to make a change," she said, giving examples of several instances where the Agricultural Commission has been able to make effective change concerning bylaws.  The group also puts out a promotional brochure publicizing the agricultural business in Stow and distributes it throughout the area.

The group, while eager to have some public attention focused on the business community, was skeptical about what could really be accomplished without direct involvement of town officials. "There needs to be a political methodology for solving problems," suggested Bob Glorioso, a manufacturer of products for the aviation market.

Salvie said this group could get organized, advocate for water in Lower Village and work with the town to make it a reality, specifically when considering the town owned parcel of land on Deerfield Lane that may soon be legally available for the citing of a public well, operated by a water company.

Salvie and Kelleher were encouraged by the participation and level of commitment these business owners showed to remaining in Stow and hoping to better the business environment in Stow. Salvie hopes to present the results of this meeting to the Selectmen, ultimately gaining their approval to make the plans a reality, as an initial collaborative effort with the Planning Board.