FOR SALE
Datrex golf bag, Navy w/print  14 individual sections, multiple pockets and 1 insulated. Matching club cover. Very good condition. $40 cash. Call 978-897-9204.
COME & GET IT FREE!
FREE: 4 egg laying 2 yr old chickens, 2 Orpington, 2 Ameraucana. Moving sadly unable to keep. 978-407-1538


FREE: Air Hockey table.  Electronic scoring, no dead spots, in good condition, shows some age, but works great.  All hardware is included. Call978-417-2046.   
FREE: Two backyard soccer goals, 11.5 ft. wide, frames only, need new netting. Call 978-897-6915.                                      
FREE: Moving boxes and packing paper.  Dish boxes 5.0 and 5.2 cubic feet, book boxes 3.0 and 1.5 cubic feet. Take some or all. Call 978-298-5789.
FREE: Disassembled 20 yr old Creative Playthings swing set. Minor repairs needed, decent shape. Assembly instructions and all hardware included. Call 978-562-3248.
PET SITTING: Dog sitting: Hello, I'm Jimmy, a 14-year -old. I can take care of your dog at your house if you live in or around Harvard Acres for $15 a day. I have a dog. Contact me at 978-461-0932, [email protected]
LOST AND FOUND:
LOST: Peanut, seen below, has been missing since Wednesday 9/19, in the Sudbury Road area near Honey Pot. He is a salt and pepper with a white bib and is 8 pounds. He has a collar with his name and our phon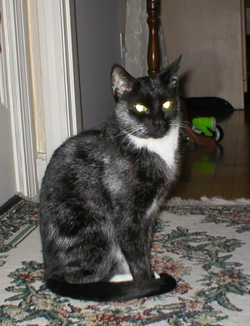 e number. Please call 978-567-9011.
FOUND: Model airplane found on Old Bolton Road near Snow Recreational area – Call 978-897-2677.
BUILDING LOT or SMALL HOUSE WANTED. Young local Stow family of 4 looking to build a 2,400SF home in Stow or move into an existing home with room for expanding. Flexible time frame for purchasing. Please call 978-897-7796. No Brokers Please.
FOR RENT: 2 bedroom apartment, quiet, overlooking the lake-must be seen. please call Ron/Pat at 978-562-6668 for more information