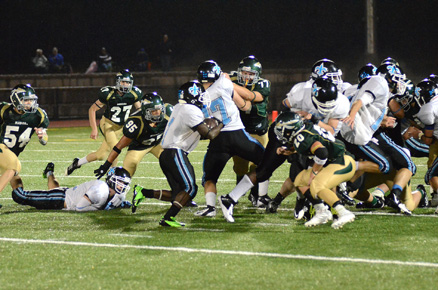 By Jordana Bieze Foster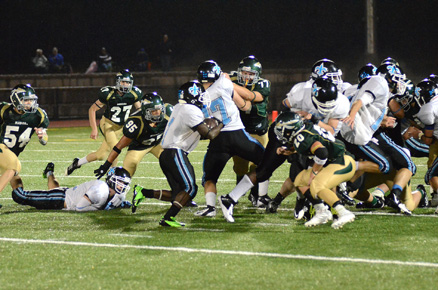 Nashoba Regional running back John Ojukwu said he would have preferred to share the spotlight with some of his other teammates during Friday night's 33-8 home win over familiar foe Holy Name. But the Stow senior also admits that scoring all five touchdowns himself was pretty special too.
The Super Bowl rematch, which just might have been the toughest game on the 4-0 Chieftains' regular-season schedule, featured two of the best backs in Central Mass in Ojukwu and Holy Name's Quron Wright. And despite the rain, the pair did not disappoint, racking up 514 yards between them. In the end, though, Wright's 244 yards on 31 carries and one touchdown paled in comparison to Ojukwu's 270 yards on just 11 carries and the aforementioned five touchdowns.
"It was a great team performance and an outstanding individual one, obviously, for John Ojukwu," said head coach Ken Tucker.
Stow junior kicker Drew Korn completing three of four extra point attempts, wrapping up the scoring.
Each of the five Chieftain touchdowns was set up by a big play by the defense, starting with a fumble recovery by senior captain Brady Schartner on just the fourth play from scrimmage. Three plays later, Ojukwu outraced all Naps defenders for a 40-yard touchdown run and an early Nashoba lead.
Once again, the defense made short work of the Naps, recovering yet another fumble on the third play of Holy Name's second offensive possession. And once again, the turnover set up a Chieftain touchdown three plays later, this time with Ojukwu finding room to run outside for a 12-yard score.
"Our defense worked hard to push through the line, we got a big hit on the person with the ball, and we came up with the recovery," said Stow senior defensive lineman Cam Rothfuss. "When something like that happens, it keeps us fired up for rest of the game."
Midway through the second quarter, the Chieftain defense came up big once again. With Holy Name in the red zone and threatening to score, Nashoba held strong and forced a turnover on downs. And once again, it didn't take long for that turnover to turn into a Chieftain touchdown, as Ojukwu broke through the middle for an 83-yard end zone dash. The point after failed, giving Nashoba a 20-0 lead at halftime.
Holy Name was first on the scoreboard in the second half with a 4-yard touchdown run by Wright and a successful two-point conversion to cut the lead to 20-8. It didn't last long.
Three plays later, Ojukwu showed that his talents as a running back involve much more than speed, juking at least two defenders en route to a 57-yard score. Nashoba's two-point conversion attempt failed, making the score 26-8 near the end of the third quarter.
Less than a minute into the fourth quarter, the Chieftain defense once again forced a Holy Name turn over on downs near midfield. This time, the offense capitalized on the very next play, with a 55-yard Ojukwu run behind key blocks from Schartner and junior Eli Williams. Korn's kick brought the score to its final margin.
Ojukwu had no shortage of effective blockers on Friday night, including Stow senior Jake Denaro, Stow junior Mike d'Entremont, senior Ethan Benjamin, junior Frankie Chiodo, and senior captain Ben Nicholson.
"I wouldn't have had any touchdowns at all if not for them," Ojukwu said. "I wouldn't have got anywhere."
Three weeks ago, after the Chieftains opened the season with a 44-14 win over Wachusett, Ojukwu told this newspaper, "It would be awesome for me to score four touchdowns in a game, but it's even better for the team if a lot of kids are able to score."
Scoring five, he says, hasn't changed his opinion.
"I did feel great personally after the game. It's awesome to score five touchdowns by yourself," he said. "But being able to show I'm not the only one carrying the team is even better. I had a great game but so did everyone else. I probably would have been happier with two or three touchdowns if the team had scored five all together."
It could happen this Friday, when Nashoba will host Marlboro. The 1-3 Panthers lost to Doherty 35-23 on Thursday night but, like the Chieftains, are 1-0 in the Mid-Wach B conference.