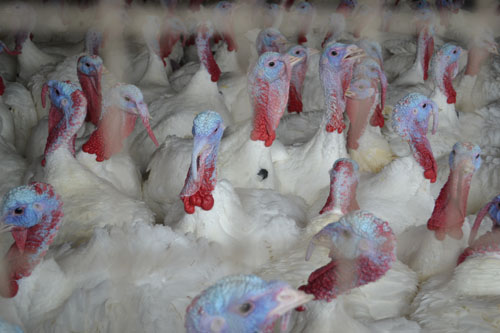 By Ann Needle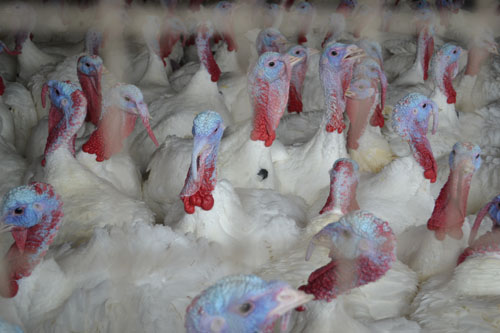 Growing up in the city, Thanksgiving meant gathering 'round a freshly thawed Butterball. Looking my food source in the eye would have sent me scurrying for the closest tofu(tu)rkey.
Enter life in the suburbs of what Mom still thinks of as our little town in "Vermont". Enjoying all that wonderful produce from our local farms, why not check out the source of some fresh meat?
Anticipating the holidaze, it was off to Bob's Turkey Farm in Lancaster, which makes it possible to feed even the biggest gang on a very fresh bird.
Before you go all squeamish, consider what 86-year-old Bob's Turkey founder Bob Van Hoof had to say about the notion of keeping these meaty wonders as pets: "They eat and eat and just keep getting bigger and bigger, until they can't stand up. Their little legs can't support that weight."
The bird also did not present as personality plus. Approach the pens, and just the whisper of "here, Fluffy" brings dozens of the gobblers to the front, staring vacantly — kind of like waiting for instructions from the mothership.
With that out of the way, let us proceed to the meat of the matter. In fact, it is the ability of Bob's breed, Broad Breasted Whites, to grow bigger than standard supermarket size that Bob's uses as one of its many selling points.
While many of Bob's birds tip the scales at 30 lbs., there are some that have plumped up to 40 lbs., according to Sue Miner, Van Hoof's daughter and manager of the turkey store in front of the farm. This makes Bob's a must-stop for those feeding large crowds. "You don't see much in the market over 24 lbs.," Miner remarked.
"The ones in the supermarkets come up from the South, and they don't have the same meat compilation," Van Hoof added.
Lest you think the Van Hoofs are managing the Tour de France over in Lancaster, forget it. Miner stressed that the birds eat a special diet of natural grains with specially added nutrients and, of course, no steroids.
Miner estimated that, this time of the year, what she termed the 14,000 or so "eating machines" the farm raises annually sweep through about 30 tons of feed in a week.
The outdoor pens and barns where the turkeys wander appeared to have room to spare, as well. On this particular day, Miner pointed to her brother and farm manager, Richard Van Hoof, moving pretty briskly as he herded the birds into the coops before the so-called "Frankenstorm".
Bob's is one of the rare turkey farms in the Northeast that directly manages all aspects of the turkey's lives. Van Hoof explained that they breed and hatch the chicks, and do their own slaughtering, handled quickly and painlessly with electrical stunning, Miner noted.
With Bob's serving up about 10,000 of its turkeys for Thanksgiving tables and accompanying dishes, "You could say we live for Thanksgiving," said Miner.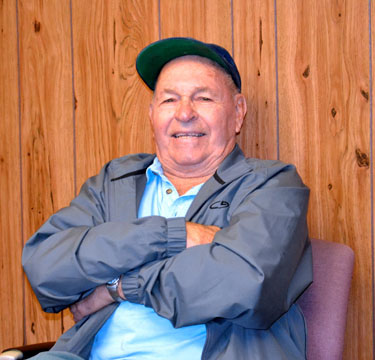 Fine Dining on the Bird
After the holidays, there is plenty to bring customers back. The menu of turkey-related items is dizzying, from side dishes to lasagnas to barbeque to accompanying desserts.
"It's all made from scratch," Miner proudly proclaimed, with turkey bones for the soup broth and egg whites for the breaded cutlets.
"The breaded cutlets sell like hotcakes," Van Hoof offered. He added that semi-prepared foods such as this are perhaps the biggest draw these busy days. The turkey sausage also gets raves, something Van Hoof attributed to removing the skin before grinding, something major manufacturers do not do.
Van Hoof and Miner have no shortage of opinions on other products from their shop. The popular lasagna and turkey pastrami got thumbs-up from both, though the barbeque turkey got mixed reviews. Miner asserted she and the store's barbeque fans adore it, while Van Hoof waved it away with, "I don't even take it home, and it's free for me."
Bob's is located at 181 Old Common Rd. in Lancaster. Just abut everything you need to know about Bob's is posted at bobsturkeyfarm.com. Or, simply call their very-helpful staff with your questions, at 978/365-9271. For Thanksgiving, the further ahead you place your order, the more likely it is they will be able to fill it. Come Thanksgiving week, new orders usually are limited to what's left, so plan ahead.