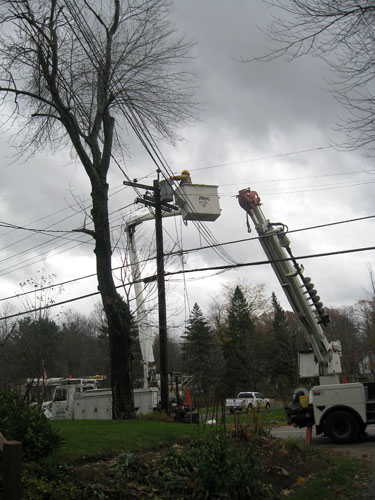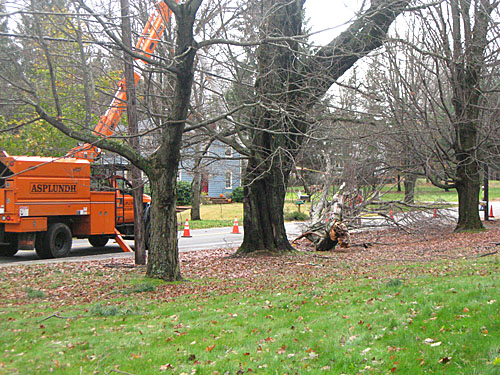 With the whole town geared up for a Special Town Meeting, Halloween, the Stow Independent….. we all got hosed by Mother Nature again. Why on Mondays and Tuesdays, Mother? Why?
Thanks to a neighbor's tree taking my power lines out, I'm now into 30 hours of being without power up here in Lunenburg.  Considering the winds,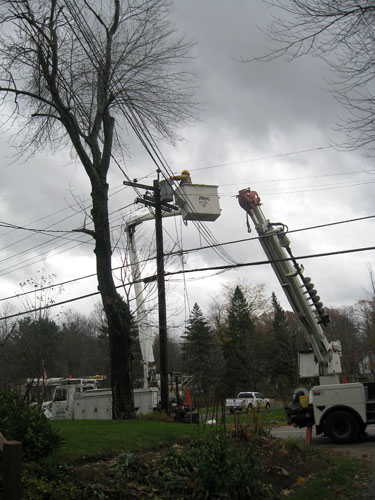 overall things weren't as bad as I'd expected, thankfully. The trucks and crews are finally here working to get my neighborhood up and running. The generator was again a life (and newspaper) saver! The crews that are working here are from Michigan. One of the men told me that they are currently getting battered by the storm back home and his own house has no power! Given how typical this is in my home neck of the woods,  as I've said before, thank HL&P for doing such a fine job in Stow.
With the current political activity, not surprisingly, we have received more letters than usual. Please note we print as many as possible given space constraints and the basis for not printing a letter is on lack of space and overlapping/appropriate content, not on party or political affiliations.
The Special Town Meeting has been rescheduled to Wednesday, November 14. The Town Election will still take place, along with the national election, on November 6. This means that the warrant articles that also appear as ballot questions, will be voted on at the polls prior to Town Meeting. Nancy has the full scoop on page 1 of Wednesday's print edition.
We just got news that Halloween Trick or Treating hours have been postponed to this Sunday, November 4, 4PM-8PM. Stow Police said that this was at the request of Hudson Light & Power. See the storm story for more information and how to get updates.

Cyndy Bremer, managing editor; [email protected]