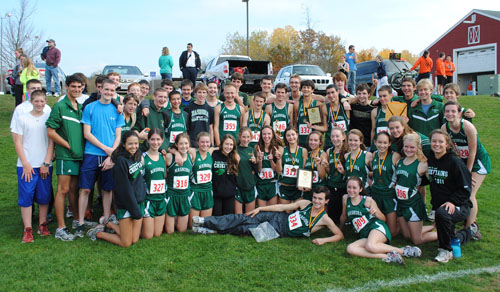 By Ellen Oliver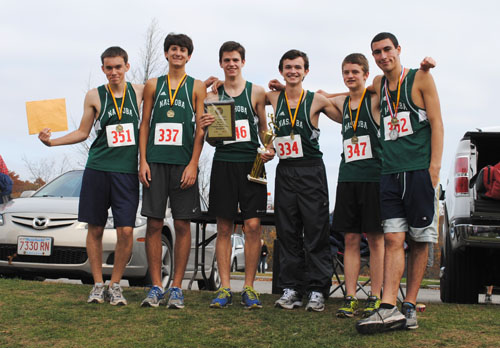 Running strong into the post-season, the boys and girls cross country teams each were crowned Mid-Wach B league champs on Saturday.  The girls won with 19 points and six of the top ten spots, the boys with 25 and seven of the top eleven finishers, each easily distancing themselves from the competition.
Freshman Rylee Gillen continued her dominance, coming in first with a time of 19:35.2. Gillen was followed by fellow freshman Grace Dempsey at third (20:25.4), senior Kara McCormack fourth (20.25.1), junior Kelsey Horowitz fifth (20:40.6), sophomore Natalie Bettez sixth (20:41.2) and senior Taylor Brady tenth (21:37.4).
Senior captain Forrest Hangen was the lead finisher for the boys Chieftains team, breaking the tape with a time of 16:52.8. Hangen was followed closely by junior Mark Puleo who was second (17:07). The next Chieftain to cross was sophomore Adam Heislein at fifth (17:36.7), sophomore Jacob Hangen eighth (17:45.5), sophomore John Atkinson ninth (17:53.5), junior Matthew Boelens tenth (18:06.5) and sophomore Zach Honig eleventh (18:22.2).
Boys' coach Steve Beckwith explained that he has a nice problem this year with an array of runners to fill out the top seven of his varsity squad. His top  five have been nailed down, but the remaining two spots have been filled with rotating candidates. "Four, five, six, seven are all running very fast. They're very close. So are eight and nine," he related. "There's a whole bunch waiting in the wings. I'm seeing good times ahead for the team."
The league title is just one step in the Chieftains goal for the season. "My plan is the same every year. I want the team to run best at District meets," explained Beckwith. "I'm really fortunate to have these great athletes who are working hard."
Beckwith said the table is set by the Hangen brothers, talented runners who turn it on during competition. "They both have that fire in their eye. They're very competitive, not leaving anything out there." Beckwith said Forrest Hangen has been the clear lead in most competitions this season, difficult to do consistently when there's no one to push you. "I'm impressed with how fast he is by himself. He's very controlled, very relaxed," said the coach.
Even though Beckwith coached the team for four years and tracks the runners coming up, he still enjoys seeing unexpected progress. His surprises this year have been Boelens, who has "passed a plateau," junior Cameron Buchholz, who is "on the bubble" for varsity, and sophomore Jared Wilbur. "Jared is running really, really, really well. He took 39 seconds per mile off his pace from last year," said the coach. Ben Mandlebaum, senior, is another athlete Beckwith wanted to highlight. "Ben's a great runner, a lot of fun. On any other team, he'd be one of the top runners," said the coach.
Beck says the part of the reason the team has such a strong future is due to Ben Langelo, the XC coach at hale. "Stow is consistently getting us numbers. I can always count on him as a feeder program," said Beckwith.
"They are a great bunch of kids," said the coach, who credits the team with aiding in his recovery after an injury. "After I broke my clavicle, I couldn't do much, except coach," said the coach. "They really saved my sanity."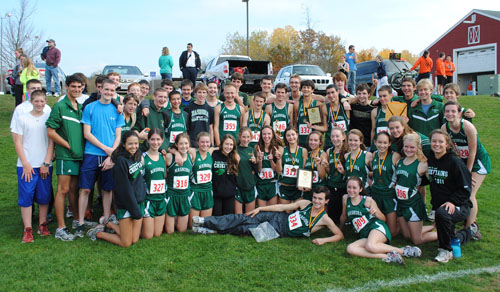 The triumphant Nashoba boys' and girls' xc teams after winning their league meets on Saturday.
Courtesy Steve Beckwith