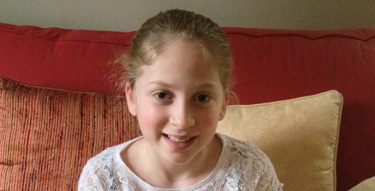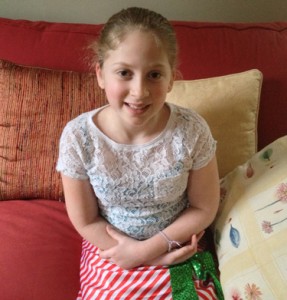 Ann Needle
It will be a traditional production of the famed musical "Annie," with colorful characters, lots of children, and a heart-warming story. But the Open Door Theater's show on January 19 will feature a few changes that will mark this as a performance crafted for an non-traditional audience.
This production of "Annie" has made special adjustments to the customary layout of a live musical, based on the special needs of people with autism. Working with the Autism  Alliance of MetroWest, the Acton theater's cast and crew —including Stow's Rachel Hoff, who appears as an orphan — have been trained in what changes need to be made to help those with sensitivity issues enjoy the show.
Another unique twist- only those with autism and their caregivers will be allowed in the audience, according to Open Door Vice President David Cass. "That's a big deal, because if you have a family member with autism, and you go out in public, you may feel that person's behavior will adversely affect those around you," he said. "Here, you automatically have an accepting, friendly group of people in the audience."
Other accommodations for guests with autism tell much about what this audience grapples with daily.
With the autistic often sensitive to light and noise, Cass explained that loud noises — such as the screech of Miss Hannigan's whistle — have been cut from the day's script. A "chill room" will be set up, where a guest can go if he or she is overwhelmed by sights and sounds. "Something you and I might perceive as a pretty color, they may be upset by it,"he remarked.
The way to the chill room will be lit, with Cass mentioning that house lights will be left on partially during the show. There will also be smaller adjustments in a nod to the audience's special needs, such as free low-gluten snacks and a soft, "manipulative" toy that will give the fingers of some patrons experiencing unexpected hand movements something to do.
As unfamiliar situations can upset some patrons with autism, Open Door has published a step-by-step guide on who an actor is and what happens on stage. Cast members will come out and introduce themselves before the show. Cass noted that, to help the autistic better distinguish between fiction and reality, the actors will explain that, while a character may appear angry, they're just "pretending" as a way to tell the story.
A Special Theater
This is the first time Open Theater will do an autism-friendly performance, Cass said. He pointed out that the theater took the idea from very successful, autism-adjusted performances of "Mary Poppins" and  "The Lion King" on Broadway.
The concept also fits well with the non-profit Open Door's mission to include, if at all possible, anyone with special needs wishing to act or work with the stage crew.
Ricks Woods, who plays "Annie's" Daddy Warbucks, estimated there are about 12 people with special needs acting or working with the production. Each of these special needs cast and crew members is paired with a "regular" buddy to help them out, Woods said.
Woods is well aware of what it takes to bring those with special needs into the theater fold — his son, Lee, who has autism, will be playing the butler. While Woods explained he has acted in local productions for years, Lee often could not tolerate sitting through one of his dad's shows.  Woods recalled Lee's younger days, when he attended a performance of "Pocahontas." "There were explosions, bright lights — and he was out that door," Woods recounted.
Then, in 2007, Woods said he saw his first autism-friendly production. After that, he invited his son to try out for parts with his dad, with Lee knowing that his father would be there to lend a hand if needed. Last year, the two were in a production of "Fiddler On the Roof" as villagers.
"He's having a marvelous time with this," Wood said. "But, for me, it's more about my son and I doing something together."
The specialized performance benefits more than just those with autism. "It has really opened my eyes as to how much these individuals are people, and how stereotypes are so untrue," David Cass reflected. "It opens the eyes to individuals who may not work with [people with] special needs, but are in class with them or live near them."
All performances of "Annie" take place at the Dragonfly Theater in RJ Grey Junior High School, 16 Charter Rd., Acton. The January 19 autism-friendly show begins at 12 noon. Tickets are $8 each, and only those with autism and their families, friends, and caregivers will be admitted.
General audience performances will be on January 11, 12, 18, and 19 at 7 pm, with matinees on January 13 (ASL-interpreted) and 20 at 2 pm. These tickets are $12 each. Open Door is grateful to the Astra Foundation for its support of this program. Annie is presented through special arrangement with Music Theatre International (MTI), New York, New York. For more on "Annie" and to purchase tickets, go to opendoortheater.org, or call 978/264-8150.