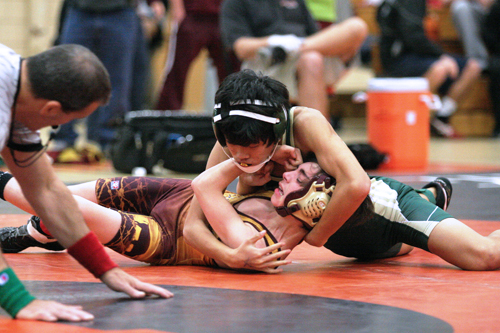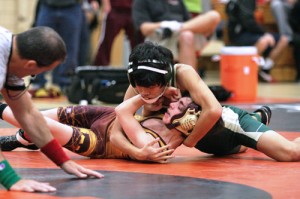 By Ellen Oliver
The wrestling team has a new leader as Coach Peter Connery joins the Chieftains on the mats, as well as in the classroom, teaching health and physical education at Nashoba. The team also has 32 kids, with two coming from a new cooperative agreement with Maynard High School, who join in with the wrestlers who already arrive from Clinton. "Wrestling changed a lot this year," admitted Nashoba senior Joel Sharin. "I like the new coach and like the kids from Maynard, but things are definitely different."
Coach Connery joins Nashoba from Dedham High School, where he coached wrestling for two years, adding to his four years' of experience starting a program at Algonquin and assisting at his alma mater Framingham High School. Connery also brings personal success as a high school (All-State Champion) and college wrestler (two-time All-New England). Coach Connery said he's enjoying the team, happy with the mix of talent. "They're good kids. It's a good mix of kids – seniors, juniors, sophomores, and freshman," said Connery.
The team opened the season on December 8 at a quad meet with Needham, Belmont, and Boston Latin. The Nashoba/Clinton/Maynard team swept the competitors, beating Belmont 51-9, Boston Latin 43-36 and host Needham 42-32.                                 
They followed up that win with a December 12 victory over Marlborough at Nashoba, beating the Panthers 46-20.
The team met up with the Panthers again on Saturday, as they participated in the annual Early Bird Wrestling Tournament at Marlborough High. "We're 4-0 so far. It's a nice start for the kids," said Coach Connery tournament on Saturday morning. With 13 wrestlers competing in the Early Bird Tourney, the Nashoba/Clinton/Maynard squad looked solid throughout the day and ended the day in fourth place (162 points).
Competing against 17 other teams, the Chieftains' top finishers were Ronan Ball (2nd, 145 weight class) and Ben Yentz (2nd, 285). David Goodsell was 3rd (138) and Isaac Luke (106), James Kilgo (113) and Jesse Batson (132) scooped up 4th places in their weight classes. Sharin (120) and Ed Quill (182) nabbed 6th place slots to add to the Chieftains team score.
"We were leading for a portion of the tournament, so we hoped for better at the end," said Sharin. "The coach outlined a plan, but I guess we didn't execute during the final bouts."
After four years on the team, Sharin said he likes the tournaments because it provides new wrestling challenges. "At tournaments we see schools we don't usually see and compete with new kids," he said. Sharin is familiar with many of the competitors in the league and in his weight class. "I changed weights year to year, most kids move to new weight classes as they get older. Last year I was in 113, this year I'm at 120," he said. "A lot of kids moved with me or one above me," he said, adding that it's refreshing when he can see wrestlers he's no longer competing against. "I can say hi and talk without competing in the same way," he said.
Sharin expressed appreciation for one of the new Maynard wrestlers, freshman Ball, saying Ball was a replacement when an older wrestler couldn't compete. "He bumped off the number one seed on his way and went all the way to the finals," said Sharin.
Although faces are different, hopefully the taste of winning will remain the same for the team. Coach Connery explained that with so many adjustments for him and the wrestlers, he hasn't named team captains. "I want to reinforce that everyone has a big role," he said. "There are new faces and I want us to work together as a team. That may change in the future. I'll make decisions based on who comes in and shows leadership."
Next up for the Nashoba-Clinton-Maynard squad is a home meet against Algonquin on Wednesday December 16.