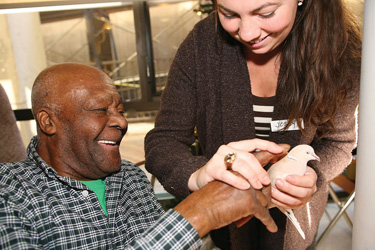 By Ann Needle
Her job began almost a decade ago, after wandering into a Concord bookstore for a reading. Today, Stow's Sophie Wadsworth helps power a non-profit organization that uses nature to literally, in many cases, change lives.
The Concord-based Nature Connection's mission is to bring nature to those who don't have access to its power, such as troubled children and seniors in nursing facilities. Executive Director Wadsworth explained that staff and volunteers bring animals, plants, and other pieces of the natural world to residential programs, special-needs schools and elder care facilities in the Boston/MetroWest area, bringing nature's healing power into their lives. Programs usually run up to twice a month for a year, at a modest cost of under $300, she added.
Wadsworth explained that her role with The Nature Connection (formerly Animals As Intermediaries) began nine years ago, when she dropped into a Concord bookstore for a reading of "Bring Me the  Ocean," written by Rebecca Reynolds, the daughter of The Nature Connection's founder. "It had very powerful stories about this amazing non-profit organization that brings therapeutic and educational programs to institutions," she said. And that's when Wadsworth began volunteering with The Nature Connection, later becoming a staff member. Wadsworth credits Stow's Nancy and Tom Shepherd with drawing her in to the organization, with Nancy still volunteering there.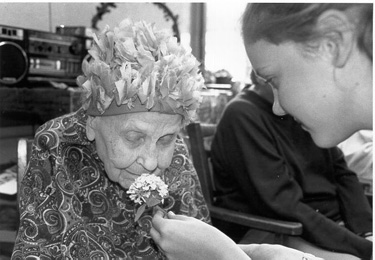 For the elderly, Wadsworth reflected on how the program can bring back precious memories. In visiting nursing homes and assisted living facilities, Wadsworth said, "Some of the elders are very shut down. Those with Alzheimer's and physical disabilities are just feeling like the scope of their world is shrinking."
But Wadsworth recalled one elderly woman in the program, who reportedly had not spoken in years, was given some fresh moss to feel one day.  "And we offered it to her, and she put her hands on that, and she looked up and said, 'emerald-green moss.'"
Even the elderly non-natives with language barriers draw much from The Nature Connection, Wadsworth noted. "They just miss home. When we bring in a farm program, they are just going back to their memories." The Nature Connection staff will often bring spices, as well, to give people's sense of smell a sentimental spark, she said.
Children Learning and Healing 
Some of Wadsworth's most powerful stories come from the residential schools and juvenile programs often visited by The Nature Connection.
"What's extraordinary is the experience I've had working with kids who have experienced cruelty in their lives, trauma, violence in their neighborhoods," said Wadsworth.  "The connections they make with nature are extraordinary."
Recalling a young girl at the New England Home for Little Wanderers, Wadsworth said, "She observed the seeds coming out of a milkweed pod – we were teaching about how do seeds grow, how do they move, how do they travel. And she says, I get it, it's so the roots don't get tangled up in the parent plant."
At another residential program, "There was a girl who kept saying, 'I'm a runner'", a euphemism for a chronic runaway, Wadsworth noted. The nature connection set her up with a goldfish to take care of in her room. Eventually, the girl took on care of progressively more complex animals, until the point where she was volunteering regularly at a local horse stable. Wadsworth reported that the girl ended up with a full college scholarship. 
With the same set of Nature Connection volunteers coming to each program's visit, "We're creating a safe space," said Wadsworth. "That builds trust and a sense of safety." Given some of the trauma these children have suffered — for example, being locked in a basement or duct taped to furniture — safety cannot be underestimated, she stressed.
Some programs will occasionally use a hedgehog to talk about what living things need to feel safe. "We tell them [the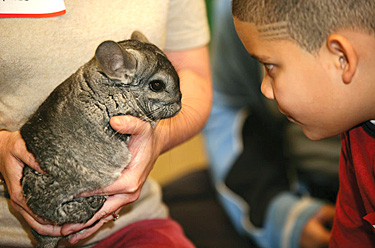 children] how when hedgehogs are scared, they curl up in a ball. They can watch as the hedgehog becomes comfortable, how it uncurls. It gives us a way to talk about basic human needs and how an animal has basic needs," Wadsworth explained. "They see themselves in the natural world, and what it is to be human."
A few institutions have told The Nature Connection that they have even seen behavioral issues disappear around children with a history of abusing animals. Wadsworth mentioned that The Nature Connection takes special care to show these children ways to be more compassionate.
Sometimes, the lack of judgment from the natural world impresses many children. Wadsworth spoke of a child in one program, who had a hook to replace his missing hand. After cuddling with a chinchilla, the child told the staff, "No one has ever not minded my hook."
As with many non-profits, Wadsworth pointed out that The Nature Connection operates on a shoestring budget of about $100,000 annually, which supports four part-time employees augmented by an army of volunteers. The money comes entirely from individual donations and a few grants, she said. Volunteers are always welcome—some even house the organization's animals — so check nature-connection.org  for more information.
Nature Connection supporters "believe in giving people this type of contact that we take for granted," Wadsworth said. "We bring more contact with nature in an average morning that some of these people have had in a month."