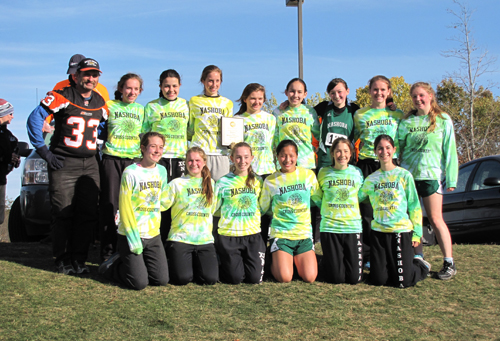 By Ellen Oliver
A Chieftain was the first to cross the tape for the girls' and for boys' races on Saturday, propelling Nashoba to dual team wins at Ghiloni Park in Marlboro in the Mid-Wach B championships.
Nashoba sophomore Rylee Gillen secured her second league title with a top place finish (19:29.1) on the 3.1 mile course. Gillen took an early lead and was never contested during the rest of the race, finishing 30 seconds ahead of Quabbin's Steffany Halfrey (20:04.6).
Contributing to the Chieftain's team win (38 points) were four other finishes in the top 13: junior Natalie Bettez (21:34.8) and sophomore Grace Dempsey (21:37.2) earning sixth and seventh respectively. Peri Matatia, a junior, was 11th (22:37.2) and senior co-captain Taylor Brady 13th (22:42.3).
Mark Puleo, a Nashoba senior captain, was first in the boys' race (16:51.2) continuing his undefeated streak. Five other Chieftains raced to the top ten to capture the team prize for Nashoba as well (23 points). Junior Adam Heislein was third overall (17:21.2), senior Matthew Boelens was fourth (17:24.6), junior Jacob Hangen crossed at seventh (17:32.7), followed very closely by junior John Atkinson at eighth (17:44.6), senior Cam Buchholz ninth (17:52.2) and Sam Engvall in tenth place (17:53.2).
For the girls, the league title came with a cost; senior co-captain Kelsey Horowitz and sophomore Bella Susi didn't finish the race due to injuries. Horowitz was returning from a leg injury, but stopped two miles into the 3.1 mile course when her leg cramped.
"It was a test to see how I would do," she explained. "Now I know I need more time off." With the district meet two weeks away, Horowitz may be back on the circuit with her teammates and Coach Dan Glover would love to see her back at full strength.
"Kelsey is running better than ever in her entire career at Nashoba," said Glover. "Her workouts have been just phenomenal. She had such a good start to the season."
Glover praised Horowitz and Brady, his two captains, saying, "They are wonderful. The kids love them. They're good leaders, good role models. They're people I can trust, I tell them to do something and it gets done," he said. The two girls are friends and have run together for four years. And they are competitors.
"We want to win districts, but we'll have to fight for it with Wachusett and Shepherd Hill," acknowledged Horowitz. "We're very close, all very competitive."
Glover still has high hopes for his team at Districts, especially sophomore Gillen.
"Rylee's still not running to her capacity yet, she had a late start this season. I'm hoping the next few weeks to get her a little bit faster," he said. "She's a phenomenal talent; she has an incredible stride. I'm looking forward to seeing her run at districts because with some competition she'll have some pretty fast times."
Boys' Coach Steve Beckwith expects his team to do even better at districts and is also anxious to see what his number one runner, Puleo, can do with increased competition.
"No one has been out there to push Mark," said Beckwith. "His goal is top five in districts, but I think he might surprise himself."
Beckwith said Heislein is returning to full force after an injury and Boelens and Hangen are improving with every race. Along with Atkinson and Buchholz, freshman Kyle Cloutier will wear the green for Nashoba at the district meet to round out the seven-man team.
Nashoba has earned a reputation as a strong Central Mass competitor in cross country.  A look at the junior varsity for the Chieftains at Saturday's league meet indicates the legacy will continue. The girls placed four in the top ten, including a one-two finish by sophomore Emily Suleski and freshman Melissa Buck. The boys split the top ten with Westboro, but Nashoba took the top three spots thanks to junior Liam Gross, freshman Ryan Gillooly and junior Zach Honig.
"We did a pretty good job at beating all these teams this year, so I knew varsity was going to win today, but I was so happy with the junior varsity," said Beckwith. "A lot of kids ran personal bests today and those who didn't were pretty close to it."
The Central Mass District meet is on Saturday November 9 in Gardner.