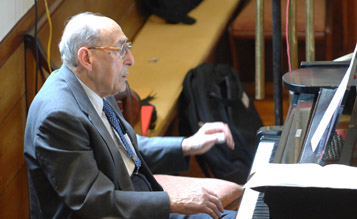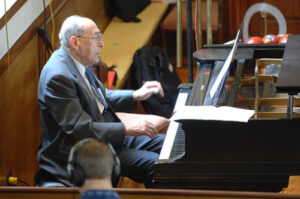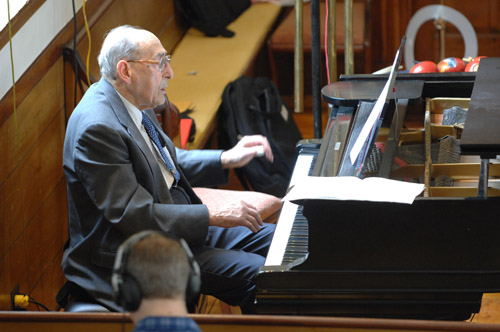 By Ann Needle
As one of Stow's most storied citizens, Ernest Goldman enjoys a wealth of superlatives. And, Goldman is about to enjoy yet another achievement, when he celebrates his 100th birthday early next month.
A musician by choice (and engineer by trade), it is appropriate that Goldman will mark this rare milestone as Sounds of Stow, which he helped found, celebrates its 35th anniversary at its November 24 concert. Co-founder and Artistic Director Barbara Jones assures that there will be a "rousing" rendition of "Happy Birthday" to Goldman at the concert.
      Much has been written about Goldman's life and work with information supplied by the man himself. Now it is time to turn to a few of his many friends for a glimpse of the memories Goldman has — probably unwittingly — gifted to the town.
First, for those not familiar with Goldman's history, his story began with his birth in Vienna on Dec. 1, 1913. Though Goldman's Jewish family was Czechoslovakian, his mother's troubled pregnancy brought her to Vienna to give birth.  This may have saved his life later on.
    Growing up in a very musical family in what is now the Czech Republic, Goldman was playing advanced classical piano at age 4. After moving with his immediate family to Austria, Goldman eventually earned an engineering degree there in 1938.  Barbara Jones remarked, "He has an old-school attitude: You make music because you love it, you don't make money at it." He also met his first wife, Marie, at university. With Marie a devotee of the cello, the Goldmans shared an intense love of music.
    As the Nazis overtook Austria, Goldman and Marie prepared to leave.  These plans became urgent after Kristallnacht in November 1938, when the Nazis ransacked Jewish synagogues, shops, and homes. The Goldmans quickly married and headed for the United States. While Goldman's siblings escaped as well, his parents did not, vanishing in the Nazis' web of concentration camps.
     The Goldmans began their American life in New York, ending up in New Jersey for almost 30 years, raising two daughters there. The couple moved to Stow in 1972, with Goldman's job transfer at GTE. Though Marie was also working, as a math teacher, the Goldmans became local legends in the classical music scene. Along with helping shape the musical legacy of First Parish Church of Stow and Acton, the Goldmans hosted Saturday night soirees at their home for amateur musicians seeking a venue to learn and perform.
Given the Goldmans' love of music, it was serendipity that Barbara Jones and husband Greg moved to Stow the same year. "We didn't know each other," Jones recalled of the Goldmans. "But it ended up we both lived in New Jersey, within two miles of each other."
    A pianist herself, Jones explained that she soon joined in the Saturday gatherings at the Goldman house. Among the guests was a choir director who put together a group of 12 singers for Stow's Springfest, back in the mid-1970s. When the director moved away, Jones recalled, "Ernest asked if I would do it." Out of this sprang Sounds of Stow, a classical choral and orchestral group that has grown over the last 35 years into a premiere musical ensemble, drawing musicians and singers from throughout the area and performing three major concerts per year, with esteemed soloists and musicians appearing with  the group.
    "Sometimes, these community groups come together because of someone's vision— this was just the opposite," Jones observed. "We really didn't know where this would lead once we moved it out of Ernest's living room.
    "He has a mind like a steel trap," Jones continued. "We still give him the [Sounds of Stow] program to proof, because he will find every little thing."
    Not surprisingly, Goldman's close escape from the Holocaust likely altered his outlook to a tremendous extent. Jones reflected, "With many people, it would have darkened their outlook. With him, I think it made him resilient." Jones explained how, for years, Goldman appeared downright "allergic" to uniforms and military-like formations, vowing never to return to Vienna.
    But, Jones noted that this changed when his daughters became involved with an organization of Holocaust survivors' children. This resulted in Goldman breaking his resolve, joining a musical gathering of the group in Vienna to accompany a violinist his daughter's age.
    Back home, Jones said, "He and Marie were joined at the hip. Calling the house, if one picked up the phone, the other one got on the other line."
    Soon after Marie's death, in 1990, Goldman re-connected with friend and fellow musician Doris Van Doren, whom Jones said he knew from NJ. "He was like a teenager, he was so giddy over her," Jones laughed. "He talked about proposing to her, going down 495 at 70 miles per hour — he had a heavy foot." The two were married in 1992, with Doris passing away in 1999.
    "I have never seen somebody care so much for two wives," Stow's Barbara Sipler remarked. "His fullness of life, his caring, it is wonderful."
    Sipler recollected a friendship that dates back to when she and husband Dwight moved to town in the 1970s. "He is probably the finest gentleman I have ever met. His grandchildren just dote on him. He is the essence of kindness; maybe it's the old European charm."
    The strong impression Goldman leaves with people has helped gift him with many friends across the country. Sipler recalled how the Goldmans made friends with a family while hiking — another activity the coupled adored — and one of this family's daughters still attends Sounds of Stow concerts regularly.
    As with Barbara Jones, Sipler commented on Goldman's less public talents. "He is just a whiz at math," she said. "He's the type of person whom, when he comes down the stairs, he can tell you just how many stairs there were."
    Goldman pledged to be at the November 24 Sounds of Stow concert — and Jones promised the group's Happy Birthday rendition will be "sung at top volume by chorus and audience, with full orchestral accompaniment!" Featuring a repertoire of Russian music, the concert takes place at Hale Auditorium at 3 p.m. For more information, go to
soundsofstow.com
.