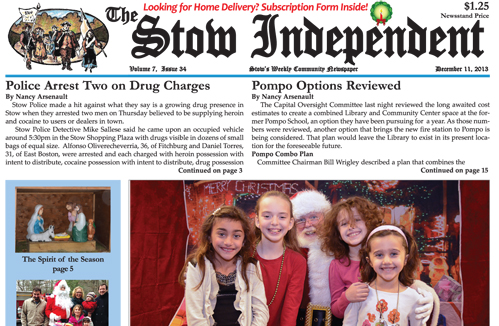 Police Arrest Two on Drug Charges
Stow Police made a hit against what they say is a growing drug presence in Stow when they arrested two men on Thursday believed to be supplying heroin and cocaine to users or dealers in town…
Pompo Options Reviewed
The Capital Oversight Committee last night reviewed the long awaited cost estimates to create a combined Library and Community Center space at the former Pompo School, an option they have been pursuing for  a year. As those numbers were reviewed, another option that brings the new fire station to Pompo is being considered. That plan would leave the Library to exist in its present location for the foreseeable future..
St. Vincent de Paul: Doing More With Less  
While the recession may be over,  the need for what is provided by the St. Isidore Parish Conference of Society of St. Vincent de Paul is not. After a year of spending even more than it did during the recession to help people in a temporary crisis, the non-profit organization is reaching out for donations of both time and money…
The Spirit of the Season
Retailers have been hard at work, making sure consumers are aware there's not much time this year between Thanksgiving and Christmas. Rather than taking on this stress, there are ways to take time to enjoy the celebrations of the season. Local churches are prepared to welcome people before and during Christmas. Following is a list of services in the area…
Community Photos and Announcements

Classifieds
Puzzles
And more!