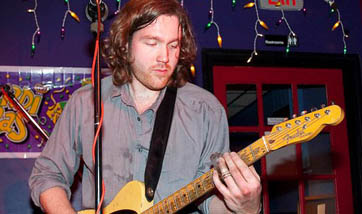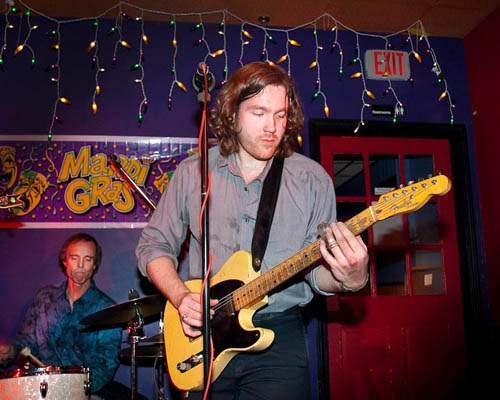 By Ellen Oliver
Boston may not be considered a bastion of blues music, but according to Stow resident and musician Barrett Anderson, Massachusetts has a "vibrant" blues connection. Anderson must know what he's talking about since he just snagged Blues Artist of the Year at the Boston Music awards on Sunday, December 8, 2013.
Anderson released his second album, The Long Fall, this autumn and learned of his BMA nomination when he spotted a post on Facebook congratulating him.
"I had no expectation to win. Just to be nominated was the real honor," said Anderson humbly. "I didn't know I had won until that Sunday night." Surrounded by friends and family at the event, Anderson said the moment was projected on a big screen – and yes, he remembered to thank his wife and family during his acceptance speech.
While Boston might not be recognized nationally as a big blues city, Anderson said New England played a big role in post-1970s blues community.
"Music was shifting from the artists who played to the people who were inspired by them," he said. Anderson said blues-based bands were growing more popular, like Roomful of Blues out of of Rhode Island and the Fabulous Thunderbirds, who played their first gig outside of Texas in Rhode Island. With new acts coming to the area, Anderson said it added to the growing folk scene in Cambridge, drawing even bigger names to the region.
Anderson started playing guitar when he was thirteen and spent his youth under his father's musical tutelage, including being taken to shows at local clubs.
"Being exposed had impact," he said. "I found a great passion for the blues." Anderson's father had more diverse musical tastes, but happily encouraged his son's interest in the blues, making sure he could get into clubs to hear the artists.
"Music was something we could connect through and became friends," he said.
As an interested teenager, Anderson not only attended shows, but met the blues artists whenever he could. His relationships led to his first professional gig at the House of Blues in Boston when he was 16, eventually leading to playing with Ronnie Earl and the Broadcasters for three years. Anderson credits Earl with contributing to his blues education.
"I'd go to his house and sit on the couch and he'd show me something on the guitar. Later, during the show, he'd make sure I was listening and use what he just showed me," he explained.
"There's a great apprenticeship in the Blues. I lot of people I met encouraged me," he said. He related some of the instruction he received at the hands of legends. "They'd tell me to make it 'bounce,' " he laughed. "It was important, but ambiguous advice."
Five years ago, Anderson joined up with Ron Levy on organ and Per Hampton on drums and based on the synergy of this trio, Anderson began thinking about a new album.
"I was thinking about songs to write, but I couldn't figure out the sound until the three of us played together and it all came together," he said of his second album. "I'm very proud of this one."
Anderson considers the blues more a language than a genre. "There are more influences in my music than blues, but blues is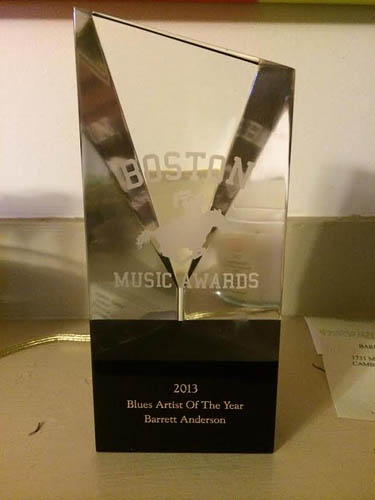 the language I speak," he said. "Blues is a lot about feeling. There's technique, notes executed, but what I'm saying is embodied in the blues. It's about making what you're doing matter and putting your soul into the music."
Anderson grew up in Petersham, but after spending a decade living around Boston, Anderson and his wife, Emily, yearned to reconnect with the woods and open spaces and bought a house in Stow almost two years ago. "We had a desire to head to a more rural setting, but wanted to still be close to Cambridge. For the first time since I left my parents house I can play guitar after 8:00pm," he laughed.
Anderson will be continuing to promote the new album and hopes to play at new venues. He's also considering his next musical steps. "I'd like to do a live album," he said. "There are songs on the first and second albums that lend themselves to that format."
Tracks from the award-winning artist's albums, The Long Fall and All the Way Down (released in 2007), can be found on amazon.com and itunes.com or via his website, barrettanderson.net. On Anderson's website, you can also check out the list of venues to catch a live performance, including New Year's Eve at Picasso in Barre where Anderson will start to play at 10:00pm.