Stow Independent Annual Holiday Break!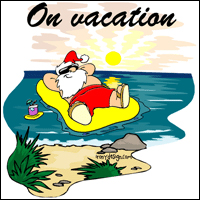 With both Christmas and New Year's Day falling on Wednesdays this year, we will not publish a print paper either Dec. 25 or Jan 1. We will, however, run a limited online edition on Jan. 3, 2014. If there is any major breaking news during the holiday print break, we will publish information on our website, www.stowindependent.com.
The Independent Clause
Even with this ridiculous cold and even more snow, I am still happy. Why? VACATION! No print edition for two weeks! So after everything is finally done for this week and the end of the year business, I can…… start Christmas shopping, finish house projects and decorating, clean, cook, bake, wrap, cook some more, finish Christmas shopping, wrap some more. Yep, vacation…
But in all seriousness, despite the amount of tasks I choose to undertake for the holidays, I am grateful for the opportunity and ability to make those choices. I'm doing things I can do for the people here with me that I love. And that hustle and bustle can sometimes help push away thoughts of those whose names are no longer on the gift list and whose places will be empty at the table.
New Town Social Worker Sara Steele recently held a discussion group for those who have a different holiday experience – one that's no longer filled with family and friends and hustle and bustle. See Nancy's article on page 1 for more information and what you can do to help.
Nancy also brings an update to some of the bigger news stories that have happened throughout 2013. Ellen and Rob spotlight some of Stow's notable residents who recently received honors of various types.
The Tuesday School Committee meeting was canceled by the snowstorm. At least that gave us something else to fill the space with!
We wish all of our readers a very Merry Christmas and Happy New Year (or whatever you choose to celebrate this time of year)! See you January 8, 2014!
Cyndy Bremer, managing editor and Chief Elf                    [email protected]