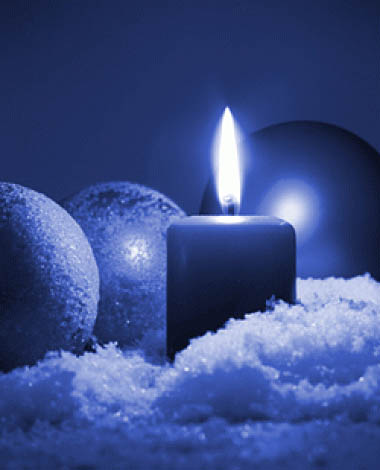 By Nancy Arsenault
"I think there is something wrong with me. I just don't understand Christmas. I like getting presents, sending cards, decorating trees and all that. But I always end up feeling sad," said Charlie Brown in the 1967 "A Charlie Brown Christmas" television classic.
Those words were echoed by a group of seniors last week, when newly hired Town Social Worker Sara Steele hosted a discussion group about Holiday Blues in the COA Friendship Room, attracting those whose worlds are a little dark in this season of light.
The holidays can be a time of despair and loneliness.  The media encourages holiday experiences that build memories of sharing special moments with family and friends.  But what do the holidays mean when there are few people to share them with and memories bring sadness?
Steele said that seniors especially often feel the most lonely and sad around this time of year. The memories of happier, bustling holidays filled with children and family often emphasize a void that now exists in their lives. Many in the discussion group expressed the sadness that holidays bring as past experiences are recalled with a spouse or family member who has passed on. For others, adult children are busy with their own lives or have moved far away. These seniors don't really see the value in putting up decorations, getting a tree, or even acknowledging the holidays. "I just hope to get through the day," said one woman who lives alone.
All of the group members mentioned loneliness as the strongest feeling experienced around this time, as they watch people in the community bustle around them, yet they themselves feel invisible.  They turn on their televisions and everything from commercials to programming is showing them what an "ideal" holiday should be, and they realize it is nothing like what they will have.  "The media bombards us with the expectation and the need to be happy this time of year," said Steele. Many had tears in their eyes as they recounted stories of past Christmases to the group. All listened respectfully as a tender tale was told of a loved one, or a description given of a cherished gift from a child.
The women spoke of the frenzy they recalled around the holidays, when they were at the center – decorating, cooking, selecting the gifts and making sure that all was merry. Today, most are alone only with those memories. "I think about when the kids were young and old friends were here and I think, that was when I was happy," said one woman.  Another woman added,  "This time of year used to be so important to the family. I used to be so important and I want it to be the same again, but I know it can't be."  The comment brought understanding nods and tears to many eyes around the table.
Steele felt it was important that the group not be rushed through their recollections or expressions of sorrowful feelings.  It was not a race to get to a more comfortable discussion of a solution. "It is okay to feel this way," she said. She added that the very short days and long periods of darkness make it easy to dwell on the sadder parts of life.
"I think it's time to go to bed and it's only 6 o'clock and I wonder what to do with myself until bedtime," said one woman. The cold temperatures keep people indoors, and seniors who have socialized over the past few months, are now spending days in their homes, alone and isolated; all of which creates feelings of despair, said Steele.  Also, older folks have a lifetime of memories to reflect upon, she said, many of which emphasize changes in their lives regarding health and abilities that are out of their control. "You realize you can't put up the outdoor lights anymore. You can't put the star on top of the tree. And that brings sadness for many," she said.
Steele explained that holiday blues can affect people of all ages. While younger people are engaged in the holidays, they often cannot ignore problems that continue to exist despite the holiday season. There is anxiety about employment, finances, problems with children, marital relationships or relatives in trouble and Steele said those worries are only temporarily masked by the holiday spirit.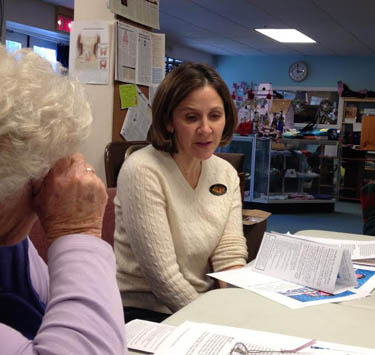 Steele said it is best for those that are harried at this time of year to slow down and appreciate the simple pleasures of the holidays, whether it is in the form of family, community or doing for others.  She encouraged those that are alone to gather at public events like a choral concert or church service where they can feel part of a group sharing the holiday spirit. "Appreciate each day, and just go day by day, even hour by hour," she advised.
Despite their sadness, the group worked to help each other. "I try to think that there are so many others worse off than I am and I think who am I to be so down?" offered one woman. Steele also encouraged those who have lost loved ones to have a "little talk" with that person, or write a letter to them, that will never get mailed, but may help someone feel connected and more peaceful. "Try to find connections in town, with your neighbors, with some friends. Reach out even if it is hard," Steele encouraged, "Someone else may be feeling just as sad as you are and would be so happy to get a call."
Steele did say this particular seasonal depression should be short lived. While it is an emotionally intense time, it usually lasts only about two weeks. People generally feel better once the holiday season is over and the normal routine begins again.  In the meantime, if you are one of the bustling, busy families whose home is bursting with Christmas cheer, think of a neighbor or senior who might be happy just to be invited in to sit amid the chaos and share a cookie or hot chocolate with your family. It might be the best present you ever give.