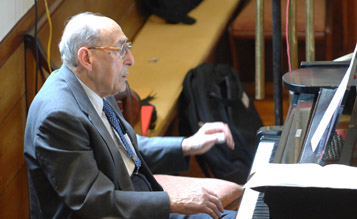 By Cyndy Bremer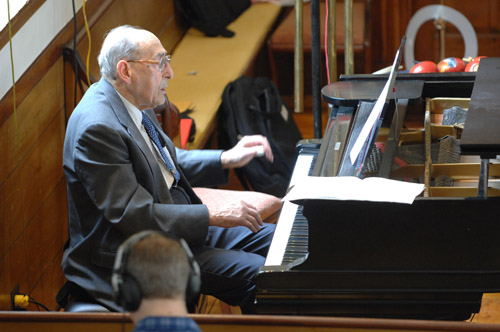 Stow resident Ernest Goldman, 100, passed away at his home on Tuesday evening after a period of declining health, surrounded by his family. Goldman had just turned 100 years old this past December and had made a birthday appearance at the fall concert of the Sounds of Stow, a group he co-founded with Barbara Jones 35 years ago.
Mr. Goldman's obituary, courtesy of the Fowler-Kennedy Funeral Home in Maynard, is posted below.
An extended obituary will appear in next week's (January 22) print edition of The Stow Independent.
GOLDMAN, Ernest A. Longtime resident of Stow, formerly of Bloomfield, NJ, born in Vienna, died January 14th, 1 month after celebrating his 100th birthday.
Pre-deceased by his first wife, Marie, in 1990, by his second wife, Doris, in 1999, and by 2 brothers, Bill and John of Melbourne, Australia. Survived by his sister Gertrude Lessem of Rye, NY, his daughter Helen Goldman Wright and her husband Jim of Middlebury, VT, his daughter Bobbie Goldman of Wilmington, MA, 2 grandsons, David Wright of Washington DC, and Paul Wright of Somerville, MA, 4 nieces and nephews, 6 step-children and their respective descendants, 9 devoted caregivers, and hundreds of adoring friends.
A remarkable combination of physicist and concert pianist, as well as a man of great dignity, intellectual curiosity, and kindness, who embraced the fullness of life throughout his many years.
Calling hours were held at his residence from on Thursday, Jan. 16th. Interment was private at Brookside Cemetery, Stow. The celebration of his life will be held in the spring.
In lieu of flowers, contributions in his name may be made to the Sounds of Stow, www.soundsofstow.com, Music at Port Milford www.mpmcamp.org or the Jewish Foundation for the Righteous www.jfr.org To share a memory, offer a condolence and obituary visit:
www.fowlerkennedyfuneralhome.com
Fowler-Kennedy Funeral Home Maynard, MA 978-897-7343