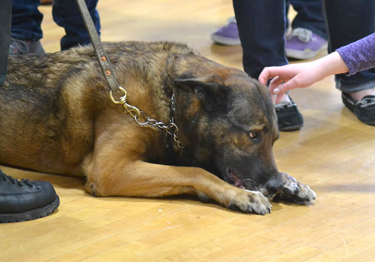 By Ann Needle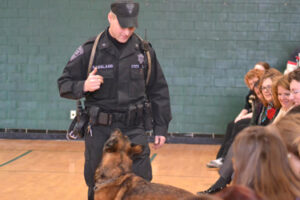 The human cooing that greeted a guest canine at Nashoba Regional High School on March 4 could make an unsuspecting visitor believe they were dropped into a dog show. Actually, it was a show—state police were recently showing off just how a narcotics-sniffing dog can, very effectively, hunt down illegal substances at the high school.
The presence of this four-legged star, Dozer, highlights a bigger issue facing NRHS. Nashoba Principal Dr. Parry Graham recently announced there would likely be a K-9 narcotics search of the school lockers before the year is out. But that did not deter about 75 students, parents, and staff from cheering on Dozer and his human partner, Mass. State Trooper Eric Ramsland, in a recent afternoon in the high school gym.
A 9-year-old Belgian-Shepherd mix, Dozer has been partnered with NRHS grad Ramsland for about seven years. As Ramsland put it, "One of the most effective tools against drugs is standing next to me with four feet."
As with other members of the state's K-9 unit, Dozer's weeks of detailed training apparently paid off.  "When I step off on my left foot, he follows me. When I step off on my right, he stays," said Ramsland as Dozer demonstrated his skills. He is even trained to follow commands in both Dutch and English—something that sure does impress crowds, Ramsland noted.
Ramsland explained that the multilanguage custom stems from the many sought-after K-9 breeds coming from European countries. With Dozer as the third canine partner in his career, Ramsland remarked that, this Belgian breed is probably the best he's ever worked with. As a testament to Dozer's good nature, he noted that the big, furry fellow lives peacefully with Ramsland and his family—and two other dogs.
But that is where the cuddly portion stops. Preparing Dozer to locate a drug sample hidden behind one of the gym's several closet doors, Ramsland brought out what he termed Dozer's "drug collar," a signal that it's time to go to work—and the barking began. As an "aggressive response dog," Dozer is trained to bark when he spots that collar, Ramsland said.
Dozer was directed to these doors, where he trotted to and fro, casually sniffing. He gave one of the doors a quick stop. Then, he honed in on another, barking and scratching. Naturally, Dozer chose correctly, identifying where one of Ramsland's fellow officers had placed a small drug sample. The reward was a colorful, rubber ball, which Dozer proceeded to chew, and chew. "He's all about that ball," Ramsland observed, adding that this is the latest in a long line of chewable reward toys.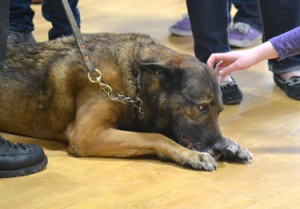 Drugs at Nashoba
"The larger question is why we brought Dozer in," acknowledged NRHS Principal Graham. "After I started here, I got feedback from a number of different groups about drugs at the school—not that the sky is falling, but that drugs are here, and what can we do to keep drugs off campus. We want to do whatever we can to make sure we have a safe environment."
Then, for the first time, the school participated in what is known as the Endicott Survey, which surveys students in several area schools regarding whether they practice risky behaviors, such as using illegal drugs. Among the results were more than half of NRHS students reporting they used marijuana by senior year, while more than 20 percent of students were offered, sold, or given illegal drugs on school property.
With the Dozer demonstration, Graham pointed out, "It's largely a preventative step. If they know a search is coming, I'm hoping they won't be bringing drugs in." Graham also commented that he aimed to alleviate some fears with the demonstration. "I had one parent who contacted me about whether a dog could ever go up to a student; she was totally against the idea of a search. They could see a dog handler, they could see what happens."
To answer the parent's question, Ramsland said, "When we do searches, I like students to stay in place. But, I do not like the word 'lockdown'. Not all dogs are as friendly as Dozer."
When conducting a high school narcotics search, the state canine team brings in a few dogs, each with its human partner/handler, who stays with the dog at all times, Ramsland explained. If a dog shows an interest in a particular locker, he noted that another canine first is called in to see if they are equally interested. After that, Ramsland stressed, it is up to the school and Bolton Police to decide what to do and, if necessary, whether to prosecute.
"We should be in and out of there in 15 minutes, tops," Ramsland said.
While 70 percent of a K-9's work involves narcotics searches, do not underestimate Dozer's drive, something Ramsland stressed is the key to the dog's ability to do his job. Ramsland estimated his partner has, among other things, saved a few lives, found three people in an underwater search, and ferreted three armed robbers out of the woods.
In the robbers' case, Ramsland said he fully understood the danger to his friend.
"I don't like playing God," he paused. "But that's his purpose. But I will not send him into a losing situation, either."
An afternoon in the NRHS gym was no losing situation for Dozer. With audience members gathered around him after the demonstration, Dozer peacefully greeted his new fans with that storied determination—by continuing to aggressively chew his toy.