By Jess Thomas
Stow's Molly Trunfio and Quinn Gross brought home the hardware at the close of the Thoreau Sharks swim team's winter season.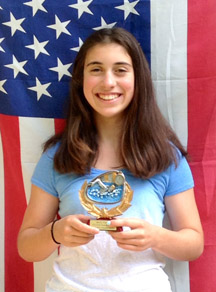 The two, both entering seventh grade at Hale Middle School next fall, were awarded Most Valuable Player (MVP) for their age group on the squad.
There are over 70 children on the team, from ages 4-16 from multiple towns in the surrounding area, according to Trunfio's mother, Maureen.
Another Stow resident, Sarah Ladd, has been a big part of the team as well, according to Maureen.
On the girls team, Trunfio scored the most points by winning the most races for her age level.
On the boys side, Gross was Co-MVP for the 11-12 year olds. This wasn't the first time Gross scored big for the team.
"The winter before, I got the MVP for boys 9-10 years old," Gross said.
Gross looks forward to the larger scale meets to show off his skills.
"My favorite part of the winter swim season is the Championship Swim Meet at Boston University in March," Gross said. "This is the final meet of the swim season and it is really competitive with many swim teams represented there."
For Trunfio, the time before races is tense and anxious, but once it is underway, she is all set.
"I don't love to practice much, I just want to compete," Trunfio said. "I get very nervous before a meet starts, but once it does, it feels good to compete."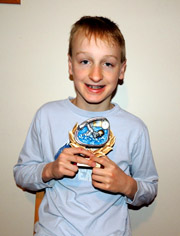 Trunfio is back in the water for the summer league with the Thoreau Sharks, which is a much shorter season, from late June to early August.
She enjoys the summer session because it is "more relaxed and it's fun to practice and swim outside," she said.
Gross said that he does not swim competitively in the summer, but he is still active while swimming at Lake Boon in Stow and in Maine.
"This summer, I am looking forward to enjoying a lot of water sports on Great Moose Lake up in Maine," Gross said.
Despite his success, Gross is still looking to advance his water skills even further.
"I'd like to improve my butterfly and breast stroke so that I can increase my speed in the IM race," Gross said. The Individual Medley race combines four different swimming styles (Butterfly, Backstroke, Breaststroke, and Freestyle) into one 100-yard race.
Trunfio has high hopes for her future in swimming competitively at higher levels. "I hope to be on the Nashoba High swim team," she said.
Judging by these two up-and-coming swim stars' early success, the high school swim team should be a walk, or maybe a swim, in the park for Molly Trunfio and Quinn Gross.