Subscribe for Home Delivery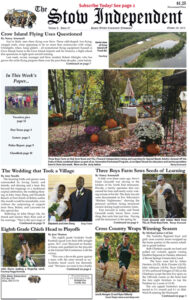 Along with the articles featured on our website, you will find the following in this week's print edition:
The Wedding that Took a Village
The beaming bride and groom were surrounded by loving family and friends, and dancing and a feast. But beyond the trappings of a traditional nuptial celebration, the wedding blessing of John Atem Deng and Elizabeth Barach at First Parish of Bolton earlier this month would be remarkable, even without the outpouring of support from Stow, Bolton, and Lancaster for this special day…
Three Boys Farm Sows Seeds of Learning

A little over three years ago, Stow's Frank Gesualdi was slaving in the kitchen of his North End restaurant, Davide, a family operation that consumed his time and nearly every waking minute of his life. The daily travails were documented on Fox Television's "Kitchen Nightmares," showing the personal sacrifices facing restaurant owners during tough economic times…
Cross Country Wraps Winning Season

The Nashoba Regional boys' and girls' cross country teams wrapped up the home portion of the season schedule in grand fashion. Both Chieftain squads ran hard and pulled out victories against visiting Quabbin Regional on Tuesday afternoon at Bower Springs Conservation Land…
Past Tense
Community Photos and Announcements

Classifieds
Puzzles
And more!