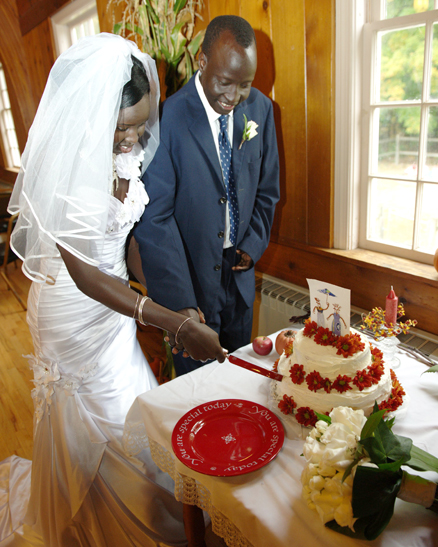 By Ann Needle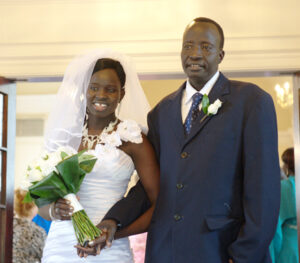 The beaming bride and groom were surrounded by loving family and friends, and dancing and a feast. But beyond the trappings of a traditional nuptial celebration, the wedding blessing of John Atem Deng and Elizabeth Barach at First Parish of Bolton earlier this month would be remarkable, even without the outpouring of support from Stow, Bolton, and Lancaster for this special day.
Reflecting on John Deng's life, his friend and mentor Mary Kerr said of his marriage, "That is the next stage of this remarkable young man's life journey."
For those not familiar with the tale, Deng came to the U.S. from South Sudan in 2002, as one of several so-called "lost boys" fleeing the horrors of war in their African country. Kerr explained that most of these boys had walked literally thousands of miles to a refugee camp in Kenya, living there about 10 years before coming to Worcester.
In short, Kerr and her family got to know Deng and his fellow refugees well, when she joined forces with what she termed "this little group of concerned mamas, who kind of adopted them." When Deng needed surgery for a severe arm injury, he stayed with the Kerrs for a six-month recovery period, she added.
Fast-forward to 2014, when Deng traveled back to south Sudan to marry Barach. After the couple moved in to their Lancaster apartment, Barach casually mentioned that it would be nice to have an "American" wedding, complete with white dress and flowers — a blessing of their civil marriage, Kerr said.
What happened next was not something this "very private couple" would ever ask for, or expect. Kerr stressed that most of these lost boys are working and supporting themselves, many sending money back to south Sudan to support family members. (Deng currently works at Lancaster's Mary Rowlandson Elementary School.)
But, it is tough to stop some of Stow's more formidable residents.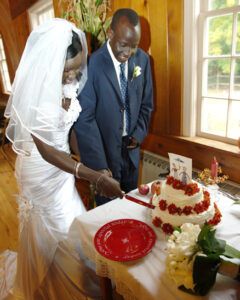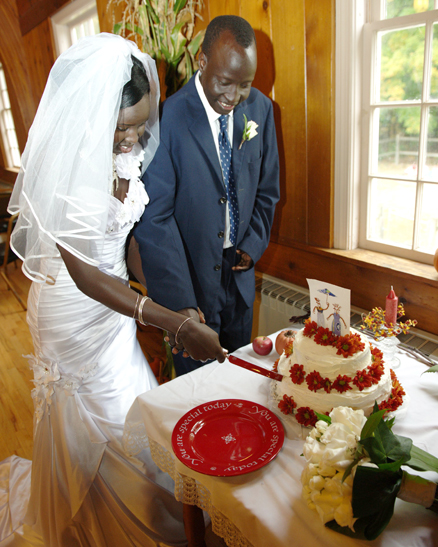 No Wedding Bell Blues
As one of those "concerned mamas" who watched after the lost boys, once Jody Newman heard Barach wanted a church wedding, said Kerr with a laugh, "You give her a task, she's on it." That meant making Barach's dream wedding happen.
Together with Kerr and Stow's Kate Powers, Newman settled on October 4, partly because Kerr's son, Cameron—who considers the 6'5" Deng his "tall brother" — would be home from Washington, D.C. for the weekend, Kerr said.
According to Newman, that gave the trio about a month to pull everything together. The emailed invitation went out a week before the big day.
"I think the only time I planned a ceremony with shorter notice was when the groom was being deployed overseas," laughed Rev. Richard Jones of Bolton's First Parish. He explained that the Stow contingent had first approached Stow's Rev. Tom Rosiello of First Parish Church of Stow and Acton, but that church's calendar was full for the weekend. "My good friend Tom knew we were also a congregation that would welcome them, so he talked to us."
Kerr praised the Bolton church for its "wonderful, welcoming generosity. They were outstanding —accommodating, generous." As the ceremony in the sanctuary ended, the church sexton even rang the bell in the tower, Kerr noted.
She also commented that, when people know Newman needs something, they tend to step forward. Kerr credited Newman as the force behind assuring that most everything was donated. Among the (often costly) items given by generous Stow residents included Barach's white rose bouquet, fashioned by florist Tony Todesco. Shelburne Farm contributed food for the reception in the church hall, while guests also were asked to bring a dish. Photographer Greg Troxel shot the pictures, and Stow TV's Jonathan Daisy filmed the wedding video. Deng even rode to the church in the Model A of Newman's late husband, Ed. And, Barbara Sipler of Small Farm stepped forth with corn-inspired fall décor for the front of the church. ("I was worried about keeping the racoons away," Kerr joked.)
The reception for about 60 included relatives from south Sudan of the bride and groom, along with a number of Deng's fellow lost boys, said Kerr. There was music, dancing — and a cake, of course.
Newman said there was the option of simply purchasing a cake locally. But, an apparently good-natured Newman recalled,  "I never made a wedding cake, so I said I could learn." Armed with a cake package mix (Newman was adamant that she normally cooks from scratch), and under the guidance and advice of Stow's Sandy Fletcher, she was able to power through conundrums such as, "The package does NOT say how long to bake it in a 12-inch pan."
The south Sudanese guests appeared to greatly appreciate the generosity of their American hosts. Kerr commented that the Sudanese especially treasure looking out for one another in their communities. Recalled Kerr, "One of the south Sudanese said during the reception, 'If you helped one of us, you have helped all of us.'"
Observing the couple, their guests, donations, and gifts throughout the day, Reverend Jones said, "Love is spoken as a word so often. But here, you really saw it in action."