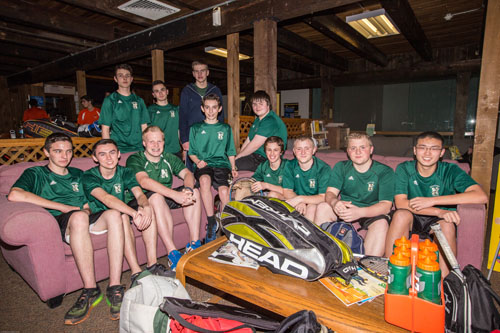 By Jess Thomas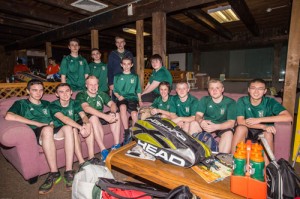 Nashoba Regional High School boys tennis coach Brenda Mason has seen many different squads come through her program in the 11 years she has coached.
She saw her 2012 edition win the district championship and reach the state finals. However, the team was switched from Midland Wachusett B to Mid-Wach A following that season and the team has struggled to find the same success since.
Last season, the team finished 9-9 overall and 3-7 in league matches. This year will provide challenges and may be seen as a rebuilding of sorts.
"Three seniors graduated and one starter moved," Mason said. "Number one and two are still one and two in singles (this year)."
Mason's top two players this season are Stow senior captain Christian Fletcher and junior Andrew Bilodeau.
Fletcher has been on the tennis team all four years of high school and Mason will look for him to lead her young squad. Mason noted that Fletcher is the only senior and there is also only one sophomore. Five of the remaining 10 team members are freshmen, so Mason should have an easier time figuring out her lineup once the season progresses and she can take note of how her players perform.
"As soon as we have some playoff matchups, the lineup might change," Mason said. "But I had to do the best I could with what I saw in the gym."
Fortunately for the Chieftains, they were able to practice at the Wayside Racquet Club in Marlborough a few times, as weather has not allowed the team to work outdoors before the season began.
Nashoba defeated North Middlesex 4-1 in the opening matchup on Thursday, April 2.
On Wednesday, April 10, the Chieftains faced off against Marlborough at Wayside for its second match after a match against Hudson was postponed due to rain.
Fletcher won his single match, 8-0, to set the tone for the day and Bilodeau followed it up with an 8-2 victory of his own.
Stow's Brian Boyle fell 8-1 in the third singles match and Marlborough evened it up with a doubles victory over a team of Bolton's Nathan Campbell and Stow's Jonny Gjeltema.
This set up a matchup of freshman Bolton twins Cameron and Cole Choquette.
"They (Choquette's) did not know the match was tied and that the whole match depended on them," Mason said. "Both of their first two matches have been barn burners but they have played tough and won them both."
The match was tied at five apiece as well as six before the Choquette's won the last two games to take the match 8-6 to improve Nashoba to 2-0 on the young season.
Marlborough fell to 0-3 this year.
Mason's early season goals for the team are to work hard and try to win some league games that would help boost the young team's confidence.
Following the victory over Marlborough, Nashoba will get some league action experience against Algonquin, Wachusett and Shepherd Hill.