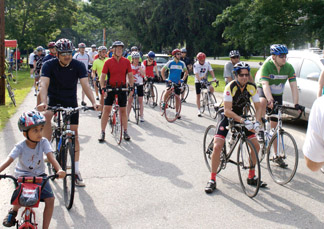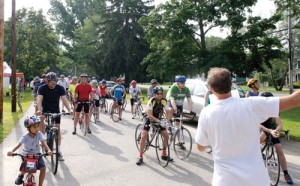 By Jess Thomas
The Stow Bike for the Woods ride will be held on Sunday, August 23, beginning at 9:00 a.m. All routes start at the Randall Library in Stow with registration opening at 8:30 a.m.
The family-friendly annual ride will benefit the Stow Conservation Trust's mission to preserve open space in Stow, according to co-coordinator Chris Spear. To date, this event started by Ken Levine, has raised around $15,000 dollars, according to Spear.
The ride was a rousing success in 2014, as over 100 riders participated and $2,000 dollars was raised. "Supporters included kids on bikes with training wheels, middle-school kids on mountain bikes, and adults on vintage 10-speeds and modern carbon fiber bikes," Spear said.
Since all skill levels and ages are more than welcome at this event, Spear noted that there are many different route options that riders can take advantage of.
"The ride caters to cyclists of all ages," Spear said. "With kids loops of two and five flat miles, teen-sized loops of 14 and 28 rolling miles, and longer challenges up to the metric century of 63 miles."
Participants are requested to arrive at the Randall Library around 8:30 a.m. to prepare for the ride, and can begin the ride as soon as they have registered.
Spear pointed out that participants can pre-register online and save $5.
Pedal Power of Acton will be present at the starting line to add air to bikers' tires and assist in tune-ups if needed.
Each loop will begin and end at the starting line and there will be food and drinks available.
There will be scones from Emma's Café, cider donuts from Honey Pot Hill, peaches from Carver Hill Orchard, coffee from Starbucks, bagels from Bagel's Plus and bananas from Idylwilde Farm. Trader Joe's and Whole Foods also provide snacks and have stocked the mid-ride lemonade stand in Littleton.
Spear said, "If you want a fun way to see the conservation land around Stow, meet some great people, and eat delicious local treats, come down and join us."
Day-of-race registration is $20 for riders over 12 years old and $15 for children under 12 and under. Pre-registration is $15 and $10, respectively. Registration money goes to the Stow Conservation Trust.
To pre-register and get a more detailed map of each ride, head over to www.bikeforthewoods.org