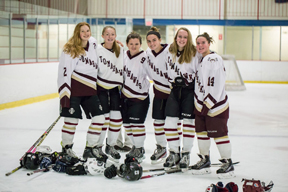 By Michael James LeClair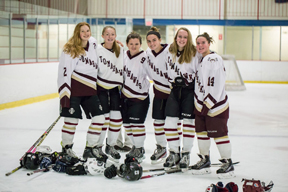 The name on the front of the jersey may say Algonquin Regional, but there's a real Nashoba Regional feel to this team.
Six Chieftains are members of the Algonquin Regional co-operative girls' ice hockey team. The team is made up of players from four area schools including Nashoba, Marlborough, Hudson and Algonquin, which is the host school.
According to the team's third-year head coach Jay Monfreda, this is the third year that Nashoba players have been part of this hockey family.
"If all these towns didn't co-op, they wouldn't be playing so they come into that with the right attitude," said Monfreda Saturday afternoon following his team's 2-2 tie with Leominster to open the season at New England Sports Center in Marlborough. "We have few leaders because we're so young, but the few leaders we do have are great and get the girls together. We do a lot of team building outside the rink and that kind of helps with that."
With a half dozen players from Nashoba on this year's roster it certainly helps the locals in terms of comfort and familiarity when it comes to playing together.
Nashoba freshmen and Bolton native Chloe Spedden was playing her first high school varsity hockey game on Saturday and she wasn't afraid to admit that there were more than a few nerves in the Tomahawks locker room.
"This was a lot of the player's first games, including myself so there were nerves coming in," said Spedden, a forward on this year's team. "This was a lot of fun, I really got into it. It took until about midway through the first period before those nerves went away."
Spedden, a member of the Nashoba Regional field hockey team in the fall and a die-hard Boston Bruins fan, began her skating career as a figure skater and has only been playing organized hockey since the fifth-grade.
"I was a figure skater and then I decided to play field hockey and so I decided I wanted to try ice hockey and here I am," said Spedden, whose favorite professional player Bruins forward Brad Marchand. "I really enjoy this group. We are close knit and there is great chemistry here."
Along with Spedden, the other Nashoba players on this year's roster are: senior Caitlyn Almy, junior Sarah Johnson, sophomores Krista Flinkstrom and Julia Lane and freshman Natalie Brown.
"I was just happy to be able to be out there and play, last year I didn't get a lot of ice time so this year I'm looking forward to playing more," said Flinkstrom, a Stow product and defenseman on this year's team. "It's so much to me to be able to be out there with my teammates. It's a younger team this year but I think that will help us grow stronger over the course of the next couple seasons. It's a great group of girls and I'm excited to be a part of it."
Flinkstrom, like Spedden, called the Boston Bruins as her favorite team. Flinkstrom's favorite player is Bruins defenseman Torey Krug.
In fact, the two Nashoba youngsters made an impact in the season's very first game. Both registered assists on Saturday. The Tomahawks jumped out to an early first period lead only to watch the Blue Devils battle back in the second period with a pair of goals to grab a 2-1 lead entering the second intermission. Algonquin battled throughout the third period and netted the game-tying goal with 4:36 left in the third period.
"I was really encouraged with what I saw out there today. We're a really young team, we don't have that many upperclassmen," said Monfreda. "I was especially happy with the way we battled back, especially after that tough second period. The girls didn't quit and they continued to fight."
Of the 20 players on this year's roster only seven of them are upperclassmen. That leaves 13 players that are either freshmen or sophomores on this 2015-2016 edition.
Algonquin  goalie Angie Ferro, last year's league all star and team MVP, was stellar between the pipes for the Tomahawks as she made 27 saves on 29 shots.
Nashoba had an opportunity to break the tie with less than two minutes left in the third period. A tripping call against Leominster gave the Tomahawks a minute and a half power play but the hosts couldn't do anything with it.
"Give credit to the Leominster goalie, she played a great game herself," said Monfreda. "She moves very well in the net and it's tough to get the puck by her. Leominster is probably one of the most physical teams we'll play this year without a doubt."