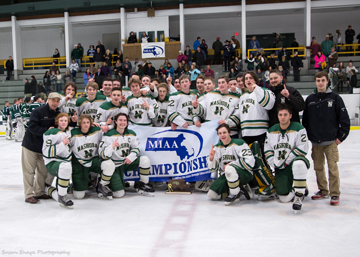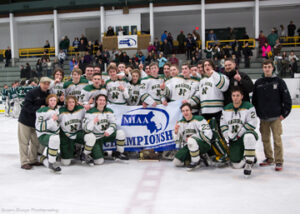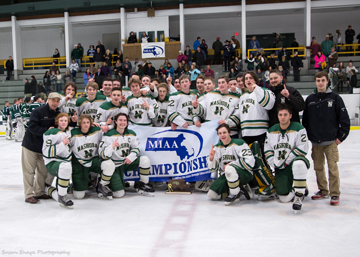 By Michael James LeClair
The champs are back on their throne.
The Nashoba Regional hockey team made it back to back Central Mass. Division 3A titles on Monday night with an 8-0 victory over Oakmont Regional at Fitchburg State University's Wallace Civic Center.
The top-seeded Chieftains (20-2) will try to make it two consecutive state titles as they will take on Western Mass. Division 3A champion Amherst-Pelham on Thursday night at the Mass Mutual Center in Springfield.
"I'm really proud of the way they played," said Nashoba head coach  Trevor Short from outside the Chieftains locker room on Monday night. "We expected to win today. Sometimes that can be dangerous, but I told the kids, 'I expect you'll win today and you'll go on to win a state championship.' I think they believe they can do that, and hopefully that will propel us to another championship on Thursday night."
The sixth-seeded Spartans wrap up the season at 12-10-1. Oakmont defied the odds to reach the finals thanks to victories over third-seeded Grafton and second-seeded Assabet Valley Tech in the quarterfinals and the semifinals respectively.
"Nashoba was the top team right from the get-go and they've had a great season and are having a good run. I wish them the best in the states," said Oakmont head coach Ryan Carney after the game. "There's nothing you can do, you're overmatched and try to hang with them for a little while. We had our breakdown in the second period and their speed started to take control of the game."
Leading 1-0 after the first period and dominating in the shots department, 18-6, Nashoba blew things wide open in the second stanza with six goals to take a commanding 7-0 lead into the second intermission.
Nashoba made it 8-0 just eight seconds into the third period thus activating the MIAA running time rule which takes effect when a team is leading by eight goals or more.
Dan Kerble had three goals for the Chieftains. Bryce Chaput added two goals and Brad Colvin, Dean Anastas and Devyn Barrett each scored once for the winners. Goaltender Charlie Lamplough had to make just nine saves to preserve the shut out.
"My final message is that I'm happy that we're going to be representing Central Mass. in the D3A state finals," said Short. "I think we are the best team."
After a quarterfinals bye, the Chieftains cruised to a 4-1 victory over fifth-seeded Fitchburg/Monty Tech last Wednesday night in the semifinals back at the Wallace Civic Center.
"I trusted that the kids would come out and play hard, play smart and embrace the challenge," said Short following the win over the Red Raiders. "And they did that. They are creative, talented and they do not give up. They don't take anyone lightly, they are focused and they have a lot of confidence."
For Fitchburg/Monty Tech, it concludes its season with a 10-9-3 overall record. The Red Raiders, fresh off a 3-2 double overtime win against fourth-seeded Littleton in the quarterfinals, entered Wednesday night looking to pull off the major upset. However, the Chieftains would have none of it.
"For two periods we were terrific and we were right there with them," said Red Raiders head coach Steve Lowney. "But the third period rolls around and they are a little deeper and they're a little more talented and a little faster. That was the difference in the end."
With Nashoba clinging to a 2-1 lead after 30 minutes of action the Chieftains wore down their opponent in the third period. Thanks to its tremendous depth Nashoba tacked on a pair of insurance goals in the final 15 minutes.
"We try to roll three lines in the first couple of periods and then the horses go to work in the third," Short said on Wednesday. "That's our focus, to finish games strong. And 19 times this year we've finished games strong. I'm very proud of them. Take nothing away from Fitchburg, that is a gritty, resilient team that is well-coached and they battled us tough tonight."