By Michael James LeClair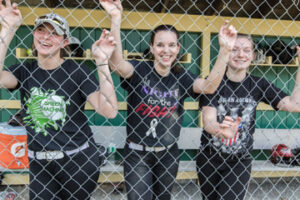 The Nashoba Regional softball team's bid for a Central Mass. Division 1 crown came up a little short in 2015 but the Chieftains are back and ready to climb back to the top in 2016.
After falling in the semifinals to  St. Peter Marian, who ended up as Division 1 champion, Nashoba has returned to the diamond under ninth-year head coach Steve Kendall.
"I don't think a lot of people had high expectations for us last year but we had high expectations for ourselves," said Kendall when talking about the 2015 season. "We had some question marks, like how do we replace a pitcher like Emily Sargent? We had several people playing new positions and we struggled early. We got beat up by Fitchburg and I think it was a real wakeup call."
After starting the season 2-3, including a 15-1 blasting at the hands of the host Red Raiders, Nashoba went on to win 10 of its next 12 games on its way to the Mid-Wach B title and a berth into the Central Mass. Division 1 Tournament.
"We didn't lose a lot of players in terms of numbers, but we did lose a lot in terms of talent," said Kendall from outside his team's dugout prior to Wednesday's  scrimmage with Leominster High School. "We lost Erin Cressman and Meghan MacAskill to name a couple. Fortunately, we return eight varsity players who saw significant time last year, including six starters so that's important."
The Chieftains and Blue Knights originally were scheduled to play on Monday afternoon at the Leominster Lassie league Complex however inclement weather pushed things back to Wednesday instead.
The 2015 edition finished the campaign with a 15-8 overall record and despite the team needing to fill a couple holes in the field and in the lineup one area the Chieftains won't have to worry is their battery.
Juniors Taylor Colvin and Sam Maglione will anchor the Nashoba defense as Colvin will toe the pitchers rubber and Maglione will be a wall behind home plate as the team's catcher.
Senior Rachel Farley will solidify the second base position and junior Gina Hinckley is penciled in as the team's starting third baseman. Sophomore Hannah Gaffney, who split time between the outfield and first base will be back in the mix this year and could once again divide her time between the four positions.
In the outfield, Kendall rattled off several names of players that could see time. The Nashoba skipper made it clear that he was comfortable with any of them patrolling the outfield. The list of players included senior Kallie Cook, sophomore Victoria Tuttle and Gaffney. Kendall also said that several other players could jump into the competition but time will tell.
"We have a strong nucleus coming back and a young nucleus coming back with only two seniors on the roster," said Kendall. "We're hoping that these girls use last year's postseason loss as a learning experience and we can work hard to try and get back to that point again. I think we have the potential to be pretty good this year. We want be peaking at the end of the season heading into the postseason."
In all, Kendall plans to keep either 12 or 13 on the varsity roster and is still in the process of finalizing the last couple roster spots. This year's team will have a trio of captains in Farley, Cook and Hinckley.
The Chieftains are tentatively scheduled to open their season on April 8 at home against Fitchburg High School. Nashoba follows up its season opener with a second home game on April 11 when Hudson High School makes the voyage down Route 117 to Bolton.