By Michael James LeClair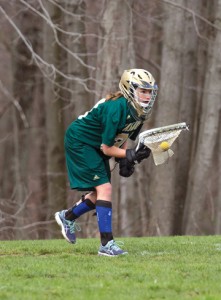 The Nashoba Regional girls' lacrosse team hit the road Tuesday morning for an early season showdown with host Marlborough High School.
After a back and forth first half, the Chieftains let things slip away in the final 25 minutes as the host Panthers came away with an 11-8 win at White Field.
For Nashoba, who kicked off the season with back to back losses before getting its first win of the season on April 16 against St. Bernard's, the loss bumps its record to 1-3.
Marlborough improves to 4-2 on the campaign with the win.
"I think my girls did a lot of wonderful things out there today  and they continue to improve each and every day," said Nashoba head coach Tammy Fortune following Tuesday's performance. "Two of the things we've really been focusing on are transition and ground balls. Our transition game looked much better, but our ground balls we need to continue to work on."
The Chieftains return to action, looking to climb back toward the .500 mark, on Thursday, April 21 when the Tigers of Littleton High School come to town.
Nashoba and Marlborough went toe to toe in the first half as the two squads took turns finding the back of the net against Panthers goalie Meghan McDonough and Nashoba net minder Anna Cadigan. The lead would change hands six times in the first half as Marlborough held a 6-5 advantage heading into halftime.
Unfortunately for the Chieftains, the second half belonged to the hosts. The Panthers created some separation on the scoreboard thanks to scoring the first four goals of the frame and five of the first six to take an 11-6 lead.
Nashoba struck for a pair of goals inside the final two minutes to conclude the scoring.
"We talked about having that level of intensity when we come out and hit the field," said Fortune. "I think the early start really threw my girls off a little bit with their timing. You could see the energy was lacking and you could see them dragging a little bit. That's something we need to work on."
Alyssa Curran led Nashoba offensively with three goals, while both Brooke English and Meg Carey each potted two goals. Paige Farren also found the back of the net with a single goal.
Cadigan made eight saves in net for the Chieftains.
"I love my goalkeeper," said Fortune with a smile. "Last year was Anna's first year playing goalie. She was our junior varsity goalie as a freshman and showed up for tryouts and amazed us with how much she improved. She's really stepped up."
Despite the team's slow start to the season after four games, the Nashoba head coach certainly likes what she's seen from her young squad, which is led by a trio of captains: Brianna Coggins, Jessie Duggan and Grace Dempsey.
"I definitely think we're headed in a better direction," said Duggan, a four-year member of the program, following Tuesday's game. "I think the positivity and the attitudes have been a lot better. Things are really looking good."
Fortune, who is in her fifth year with the program and her third season as the varsity head coach, she showered her players with praise, both offensively and defensively.
"This year's team compared to last year, it's like night and day. The intensity these girls have and the drive to score and the drive to get every 50/50 ball are amazing. My fellow coach and I have been talking about how aggressive this team is compared to last year's team," said Fortune. "We're only four games in and this team is already in a better position than we were at time last year."
Last year, Nashoba limped to a 2-18 overall record but this year the team has raised the bar a little higher. Both players and coaches alike feel this team can improve on that win total as expectations are high. If the first four games are any indication, Nashoba fans can expect good things from their team this spring.
Defensively, Nashoba has relied on the play of Duggan, Dempsey, Coggins, English, Sarah Duhaime, Chase Meininger and Caity Curtis.
Up front on the offensive side Fortune spoke highly of Farren, Curran and Carey saying they have certainly made a difference in the attacking end of the field.