EVENTS AT THE RANDALL LIBRARY IN JULY (http://www.randalllibrarystow.org)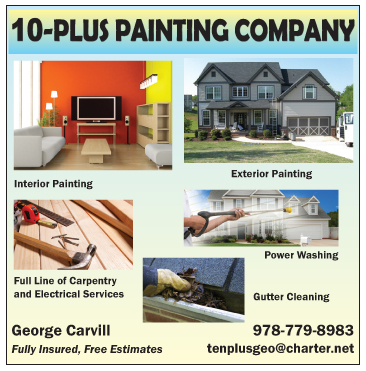 Until August 17, Randall Library Summer Reading Olympics for Kids— Filled with fun activities and prizes, the Randall Library Summer Reading Olympics is a great way for kids to have fun reading and listening to books all summer long.
   Until August 17, Randall Library Adult Summer Reading Bingo Contest—Back by popular demand, the Randall Library has summer fun for adults with the Summer Reading Bingo Contest. If you are 21 years old or older come play along by signing up and picking up a Bingo Card at the circulation desk. The more you play, the more you increase your chances of winning either a $25 gift certificate from Shaw's of Stow, a $25 gift certificate from Emma's Café of Stow, a gift bag from Colonial Spirits of Stow, or a stack of books. Don't let the kids have all the fun this summer!
   Thursday July 21, 7pm, "The History of American Painting, Late 17th to mid 19th Century", with Martha Chiarchiaro – Local art historian Martha Chiarchiaro will be lecturing on the history of painting in the United States. Known for her captivating art history lectures, Chiarchiaro will be using key examples from the Worcester Art Museum (WAM) and the Museum of Fine Arts (MFA) in Boston collections to highlight her presentation. Passes to both the MFA and WMA are available from the Randall Library thank to a generous donation from the Randall Library Friends Association.
Thursday July 28, 7pm, "The Black Dogs Project", with photographer Fred Levy – Local artist/author Fred Levy will be displaying his photographs and speaking about his new book "The Black Dogs Project".
"CRUISE SEASON" AT THE STOW COUNCIL ON AGING
June marks the beginning of "Cruise Season" at the Stow Council on Aging. We do a different local cruise each month in the summer. On July 20 we will cruise the Charles River with lunch included at the Cheesecake Factory. On Aug. 24 there will be a canal cruise/museum visit in Lowell. Please see the newsletter for details.
Sign-ups begin on the first of the month and payment must be made when registering.  Stow seniors have priority and out-of-towners may be put on the waiting list upon payment.  A refund will be made if the trip is full. For more information please call Suzanne at the Stow COA, (978) 897-1880.
SAVE THE DATE: STOW HALE HIGH SCHOOL REUNION
Plans have been made for the next Hale High School Reunion, which will be held on Sunday, Sept. 25, at the Holiday In,, Rt. 111, in Boxborough. Reservations will be required. Anyone who graduated from or attended Hale High School is invited to join in the fun. Mark the date on your calendar now! Please spread the word to your classmates. If you do not receive a letter and want to make a reservation, please contact Vivian Dean at 978-897-2665 or Judy Scraggs at 978-897-8784.
~Outside of Stow~
MAYNARD FARMERS' MARKET OPEN
Saturdays until Sept 24., 9am-1pm, in the Mill Pond parking lot on Main Street (near intersection with Sudbury Street) in Maynard. Celebrating its 21st season, the Market features three vendors from Stow: weekly vendor Applefield Farm; periodic vendor Nashoba Valley Extracts, offering homemade vanilla and other cooking extract flavors (attending 7/30, 8/20 and 9/17); and artisan Linda Cullen, who makes stamped cards and gift items (on 7/23 and 8/13). Market also features the Serendipity Cafe Music Series, children's activities, wellness practitioners and community information. For a complete vendor list and the latest schedule information, go to Maynard FarmersMarket.com.
FANS OF FILM PROUDLY PRESENTS "THE THIRD MAN"
   Join the Friends of Film at Maynard's Fine Arts Theatre, 19 Summer St., Maynard, on July 13 at 7:30pm, for "The Third Man," a 1949 British film noir set in post-WWII Vienna. It is considered one of the greatest films of all time, celebrated for its acting, musical score and cinematography. "The Third Man" won the 1949 Grand Prix at the Cannes Film Festival, the British Academy Award for Best Film, and an Academy Award for Best Black and White Cinematography in 1950. In 2005, viewers of BBC Television's "Newsnight Review" voted the film their fourth favorite of all time, the only film in the top five made before 1970.
   Fans of Film shows are every second Tuesday and Wednesday of the month at 7:30pm. Tickets are $7 and should be purchased at the door.
Free Event for LGBTQ Families
Framingham-based non-profit organization OUT MetroWest is teaming up with The Rainbow Initiative to offer a free event for LGBTQ families. The event will take place at NARA Park (25 Ledge Rock Way, Acton) on Sunday, July 17 from 10 a.m. to noon. Prior registration is not required.
The NARA Park event will be based out of the Bathhouse Pavilion. Families can enjoy many of the park's amenities, and snacks will be provided. OUT MetroWest's series of events for LGBTQ families is made possible by a grant from the Avidia Charitable Foundation.
For more information about The Rainbow Initiative, see www.therainbowinitiative.com. For more information about the July 17 event, contact Julie Blazar at [email protected].
VBS AT TRINITY CHURCH
Deep Sea Discovery Vacation Bible School (VBS) is being offered August 1–5 at Trinity Church located at 14 Wattaquadock Hill Rd. in Bolton. This free program runs from 9am to 12pm and is for children age 4 through those entering 8th grade. Children will have fun with deep sea themed activities as they participate in music, craft time, recreation, and snack. They will also hear Bible stories about Jesus, where they will find out who He is and why they need Him. For more information or to register, call the church office at 978-779-5517 or visit www.trinitybolton.org.
FREE SUMMER CONCERT IN MAYNARD
The Maynard Library is pleased to announce plans for the annual summer concert in Memorial Park. The concert will take place on Thursday, August  4 at 6:00 pm and features American Idol finalist Siobhan Magnus, appearing with Brian Stratton.
Siobhan Magnus is one of New England's premier female vocalists. Many may know her as a 2011 finalist on American Idol where she interpreted the songs "Think" by Aretha Franklin and "Paint It, Black" by the Rolling Stones. After American Idol, Magnus performed with the American supergroup Boston as a vocalist on a tour that lasted through 2014. Siobhan was also the lead vocalist in the supergroup Doubtful Guest—a  combination of multi-platinum artists including former members of Alice in Chains, Fuel, Everclear and Godsmack.
Brian Stratton is a New England based performer and record producer. He has produced and/or performed with such legendary bands as Chicago, Hootie and the Blowfish, Bonnie Raitt, and Paula Cole. Sratton's productions have received critical acclaim throughout the musical community. He is also a popular radio talk show host in Massachusetts and Rhode Island.
The concert is free and open to all. People are welcome to bring blankets and lawn chairs to the park (located at the corner of Nason and Summer Streets.) In the case of rain, the show will be moved to Maynard High School on Tiger Drive and tickets will be required for admission. The free tickets will be available at the Maynard Library Children's  Desk.
This concert is made possible through generous donations by Middlesex Savings Bank, Bose Corporation, the Maynard Cultural Council and the Friends of the Maynard Library. For more information, see www.maynardpubliclibrary.org or call 978-897-1010.
 THE BOLTON FAIR  King Arthur Flour Baking Contest
The King Arthur Flour Co. is sponsoring a baking contest at the Bolton Fair exhibit tent. King Arthur has been an enthusiastic sponsor of regional and state fairs for years. The BF is excited to have this sponsorship with includes very generous prizes.
The recipes can be found on the Bolton Fair website in the exhibitor/ exhibit tent pdf pages along with the rules. The website is Boltonfair.org accessible from your desktop or iPad.
The recipe for adults is a Almond Galette made with a flaky turnover dough.
The recipe for the juniors (age 9-19) is a Black and White Biscotti.
All contributors must use King Arthur flour and bring your opened bag or the UPC label.  Check in for exhibits is Thursday August 11 from 3-9pm at the Lancaster fairgrounds.For more info email Brenda Hoseason at [email protected] or call 978-779-6518.
REGISTRATION IS OPEN FOR NVMC'S HUNGER RUN 5K
Registration is open for Nashoba Valley Medical Center's (NVMC) 5th annual Hunger Run 5K road race on Saturday, Oct. 15. All proceeds from the event will benefit Loaves & Fishes, a non-profit organization that provides food and temporary support services to residents of Ayer, Devens, Groton, Harvard, Littleton, and Shirley. Since its inception, Nashoba's 5K Hunger Run has generated more than $21,000 for Loaves & Fishes and recruited over 725 participants who have donated more than 2,000 pounds of food to the organization.
The Hunger Run 5K will begin at Nashoba Valley Medical Center at 11am and travel along the scenic back roads of Ayer and Groton. Walkers are also welcome to participate. In addition, children are encouraged to dress in their favorite Halloween costumes (optional) and enjoy the "Harvest Half Mile Run." Fun activities for the whole family will be available at the finish line.
Advanced registration is strongly recommended and can be accomplished online by visiting www.nashobamed.org/hunger-run-5k. Register by Thursday, Sept. 15, and receive a FREE T-shirt. Registration the day of the event is from 9am to 10:15am. The cost to register for the 5K race is $25 in advance, $10 for the Half Mile Run and $10 for walkers. Each runner should bring one, non-perishable food item to be donated to Loaves & Fishes.