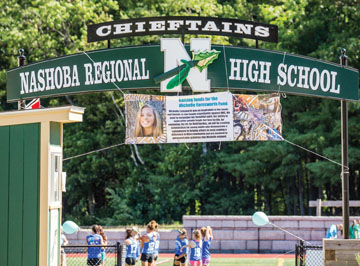 By Michael James LeClair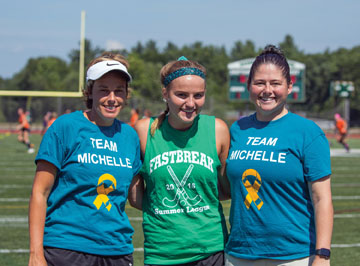 Michelle Farnsworth will never be forgotten, the Nashoba Regional field hockey program will make sure of that.
On Friday morning, friends, family and athletes from the North Central Massachusetts area gathered at the Field Turf of Nashoba Regional Nashoba Regional High School to take part in the Third Annual Michelle Farnsworth Memorial Field Hockey Play Date.
Michelle Farnsworth was nearing the end of her freshman year at Nashoba Regional High in the spring of 2014 when she was diagnosed with cancer. Farnsworth's health may have prevented her from being able to play field hockey her sophomore year, however, she was the inspiration behind the Chieftains run to the Central Mass. Division 1 title and a State runner-up finish in the fall of 2014.
She cheered on her team and attended events when she was able.
Farnsworth passed away in January of 2015 at just 15 years old.
"This is the third year we've had this event. The first year, Michelle was still here, but last year was the first year without her and that was really tough," said an emotional Brenda Farnsworth, Michelle's mother.
"This year it's a little easier. It's a real coming together for everybody. Her spirit is here with us and it's a chance to see some of the people I don't get to see on a regular basis. There has been incredible support and it's great to see a lot of the seniors that were her classmates here."
Four area schools teamed up with the host Chieftains to put on Friday's play date with all the money collected going towards the Michelle Farnsworth Scholarship Fund.
"Today is a great day to bring everyone together to honor and remember Michelle," said Nashoba Regional athletic director Tania Rich. "She played field hockey for us so this is a good way to not only bring our Nashoba kids but teams from across Central Mass for one common cause."
In addition to the Chieftains, Friday's event also included field hockey teams from Lunenburg High School, Marlborough High School, Leominster High School and Blackstone Valley Tech all the way in Upton.
"It really means a lot to see everyone come together," said Nashoba field hockey head coach Jaime Mariani. "This is something that's really important to the girls. They haven't stopped thinking about Michelle. Even prior to our season starting the girls talk about what they're going to do to honor and remember Michelle. Her memory will certainly carry on."
Nashoba captain Sarah Johnson, an incoming senior, talked about Michelle and did her best to put into words the emotions of the day.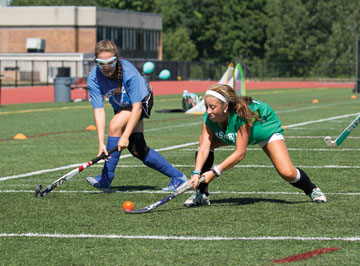 "I think today is very important. Michelle was going to be a senior this year so we were classmates and I was pretty close to her. We both came in as freshmen and we just bonded," said Johnson. "It's emotional; she was my friend but today is a chance to remember her. She loved to play field hockey and this is a great way to remember her."
All proceeds from the day, which included money collected from several raffle baskets, player and parent donations and concession sales, were put into the Michelle Farnsworth Scholarship. The scholarship is divided three ways and given to a Nashoba field hockey player, a Central Mass. high school field hockey player and a Central Mass. high school swimmer. According to Brenda Farnsworth, the total amount may vary slightly, but the amount given to each recipient is close to one thousand dollars each year.
Play Date organizers Arushi Ahmed and Nicholina Allain took time out from their duties to talk about the event.
"This is our third year running this so we have some experience on our backs  now and I think it's been another successful year," said Allain, a close friend of Michelle and a 2015 Leominster High School graduate. "It's such an incredible feeling having all these people here having your back and showing support. It's pretty cool that we have so many schools that want to jump in and help out."
Ahmed, a 2016 Nashoba graduate who will be attending Sacred Heart University in Connecticut this fall,  added, "It's an amazing turnout yet again. It's amazing the support this has received, not only from the Nashoba players but players and schools all over the area. I know that if Michelle were here she'd really appreciate this and be amazed at the amount of positive feedback we've received."
Michelle may not be here physically, but clearly, her spirit lives on.