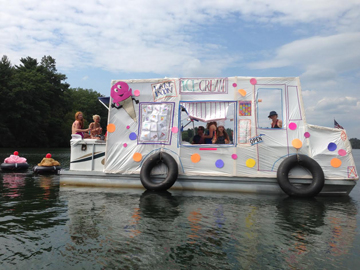 The Annual Water Carnival Weekend sponsored by the Lake Boon Association will be held from Friday evening, August 26 to Sunday afternoon, August 28. Activities are held at the Town Beach/Pine Bluffs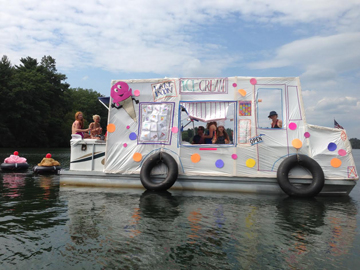 Recreation Area off Sudbury Road in Stow. Most events are open and free of charge to Stow and Hudson residents. The Association offers these events in appreciation for the many friends who support the organization's environmental, educational and civic programs during the year.
The Lake Boon Water Carnival is a 100-year old tradition, beginning shortly after Lake Boon became a summer destination for Boston area vacationers. It is old fashioned summer entertainment for all ages, carrying on many events similar to those held at the end of the summer season in the early 1900s.
Water Carnival Weekend Activities include:
Friday Night 8/26, 7:00-9:00 pm – Music at the Beach
Enjoy the sunset at Pine Bluffs Stow Town Beach with music by Paul Rogoshewski. Roast marshmallows and watch for the music boat.
Friday Night 8/26, 7:30-11 pm – Music Boat & Lighting of the Lake
The music boat will begin in the first (northern) basin before dark at 7:30 pm, going around counter-clockwise and then into the second (southern) basin about 9:30 going counterclockwise. All are invited to sit by the shore or go out in a boat, canoe or kayak (all must have lights) as the Lake Boon music boat passes by, featuring the band Groovestone. The music boat may be viewed at the Stow Town Beach/Pine Bluffs Recreation Area about 7:45.
Lake residents are encouraged to participate in "lighting of the lake" with small lights or luminaries (but not bright flood lights please) along the shoreline. In case of bad weather the music boat may be postponed to Saturday night. For info, call 978.562.2203 after 6 p.m. for a recorded message. The music boat is sponsored in part by a grant from the Cultural Council of Stow which is supported by the Massachusetts Cultural Council, a state agency.
Saturday 8/27, Water Carnival Beach Day:
Stow Town Beach/Pine Bluffs Recreation Area
9:30 – Canoe races
11:00 – Field races
11:30 – 1:00 – Lunch
12:30 – Children's entertainment with a magician
1:30 – Swimming races
2:30 – Beach games
Prizes are awarded for many of the races. There will be face painting, balloon toss, pie eating contest, and much more. Bring a picnic or purchase a grilled lunch prepared by the Lake Boon Association. A variety of LBA T-shirts, sweatshirts, beach bags, hats and lake history books will also be available for purchase.
Sunday 8/28, 10:30 am – 12:00 Historical Lake Tour: Residents are invited to join Don Hawkes aboard a pontoon boat for a slow cruise around the lake, pointing out the famous and infamous highlights of Lake Boon's past and present. Adults and older children wishing to join the cruise must make a reservation with Don Hawkes at 978 562 6630, [email protected].
Sunday 8/28, 2:15 – 4:00 Annual Decorated Boat Parade: Residents decorate their motor boats, kayaks or canoes with a theme of their choosing and compete for bragging rights and trophies as they tour the lake, sharing their creativity and humor with those on shore. Entrants in the boat parade will receive a local pizza restaurant gift certificate and are invited to the party in the narrows after the parade. Shore parties are also in competition for their own award. The parade begins at the First Basin Narrows Buoy at 2:15 pm, and continues counter-clockwise around the first (north) basin and then to the second (south) basin. Off-lake residents can view the boat parade at the Stow Town Beach about 2:30.
Admission to the beach, both Saturday and Sunday, is free and this is a great opportunity to see the many improvements that have been made there by the Stow Recreation Commission. We want to thank our past supporters including Main Street Pizza, PaPa Gino's of Hudson and Stow, Honey Pot Hill Orchard, Stow House of Pizza, Brothers Pizza, CJ's of Hudson and Sudbury and the Lake Boone Ice Company.
The Lake Boon Association is a non-profit organization incorporated since 1921, addressing civic and environmental needs of nearly 500 households around Lake Boon.