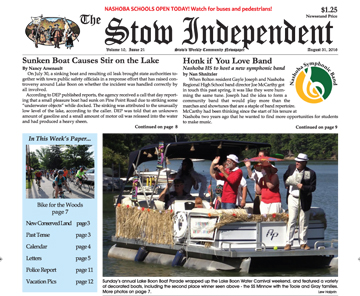 Along with the articles featured on our website, you will find the following in this week's print edition:
Sunken Boat Causes Stir on the Lake
On July 30, a sinking boat and resulting oil leak brought state authorities together with town public safety officials in a response effort that has raised controversy around Lake Boon on whether the incident was handled correctly by all involved…
From Farm to Studio on White Pond Rd
Looking at Andrew Mintz's life as proprietor of White Pond Farm and beyond, it is easy to see that days must stretch well beyond the 8-to-5 grind. Not only is his pick-your-own CSA (community-supported agriculture) growing, but this sculptor leads a busy life as a juried artist…
Take It Out of the Kitchen
September looms, meaning there are nights sports practice doesn't end until the field lights go up, or you were stuck at the office, working toward fulfilling that other-worldly delivery date the sales force promised. Be ready with some take-out options that might—maybe—make everyone happy. Pizza? Sure. But if everyone wants that, and you are literally fed up with it, here are some suggestions for quick, easy options that aren't limited to just pizza..
Also in this week's Print Edition…
Past Tense
Community Photos and Announcements

Classifieds
Puzzles
And more!