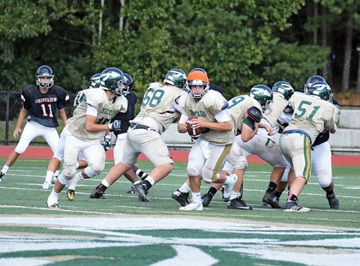 By Michael James LeClair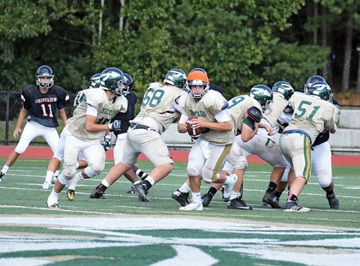 Talk about a tough act to follow.
Last fall the Nashoba Regional football team steamrolled through the competition. Each week the Chieftains dominated their opponents on both sides of the football.
Nashoba capped a dream season the best way it could, with a 27-13 victory over Reading Massachusetts Division 2 State Championship at Gillette Stadium in Foxborough. The triumph was the exclamation point on a perfect 13-0 season.
Nashoba head coach Jamie Tucker and his squad has returned to the gridiron and is ready to defend their crown.
"Last year was a lot of fun and it was an amazing season. I think it was a great experience for everybody," said Tucker. "As great as last year was, we're geared up for this year. I think our kids have done a really good job in the offseason getting ready for this year."
As for Friday, Tucker liked what he saw during his team's scrimmage against Longmeadow.
"I thought we played pretty well today, we had a slow start but we were able to move the ball and our defense made a couple of stops," said Tucker following his team's scrimmage. "We've gotten a little bit better each practice and each scrimmage and that's all anyone can ask for."
At the conclusion of Friday's scrimmage the Chieftains now have three scrimmages under their belt as they prepare for Friday night's season opener when they travel to Northborough to take on the Tomahawks of Algonquin Regional.
"Algonquin is going to be very good (Algonquin head coach) Justin (McKay) does a really good job, they will be very physical," said Tucker. "They will be prepared to face us so it should be a tough for us and our kids."
The Chieftains were hit hard by graduation as quarterback Robert Atwood and running back Jake Benjamin have received their diplomas and will be watching the games from the bleachers. Other key players from the championship team that have graduated are Tony Kennon and Jake Watkins.
"Just like any program, we lost some key guys and some key parts but we have a lot of experience coming back," said Tucker. "I think that's key, relying on the guys with that experience until you can get the younger up to speed. I think we've moved along pretty well up to this point."
Captaining the Chieftains this fall will be a pair of seniors. Jake Fire and Bobby Denaro will play the role of captains for the defending champs.
On the offensive side of the ball, look for the Chieftains to turn to Senior Owen Fay to take over the role as signal caller. The Nashoba backfield features a handful of threats as Nick Rodgers, Nate Mansour and Jake Fire lead a group of hungry running backs.
"We've given the ball to seven different guys in the backfield during our varsity scrimmages," said Tucker. "I'm pretty confident that we gave give the ball to seven or eight different guys back there which is great."
The young men that will be opening up holes for that Nashoba backfield is the offensive line. Tucker and the Chieftains coaching staff is looking for big things from those bodies up front. Denaro, Sam Keith, Peter Farrell, Dan Fitzgerald and Andrew Pasquale will anchor the line in 2016.
On the defensive side of the football the Chieftains will turn to several of those same players as many will be playing iron man football, meaning they will play both sides of the ball.
"On the defensive side we have a similar situation with some experienced guys coming back," said Tucker. "Denaro, Kyle Hume and Fire are all returning and will provide leadership along with Mansour and Breese Hill."
Following the Chieftains season opening game on September 9, Nashoba welcomes Shrewsbury to Bolton on September 16 for the Chieftains home opener. A trip to Groton/Dunstable on September 23 will be followed by a showdown against perennial power St. John's of Shrewsbury at home on September 30.
"We face some really good offenses that can move the ball," said Tucker. "Algonquin is one of many teams that have the ability to move the ball and put points up. We'll have to be ready to play our best game against each opponent. We don't have a week off. We have to be prepared against everyone."
Other home games on the Nashoba schedule include Shepherd Hill Regional on October 21, Westborough on October 28 and Clinton on Thanksgiving morning as the Chieftains have replaced previous Turkey Day opponent North Middlesex Regional in place of the Gaels.
"I think playing Clinton is going to be great, it's going to be awesome," said Tucker. "With the rivalry between Nashoba and Clinton and a lot of friendships between players and coaches of both teams, it's going to be a lot of fun."