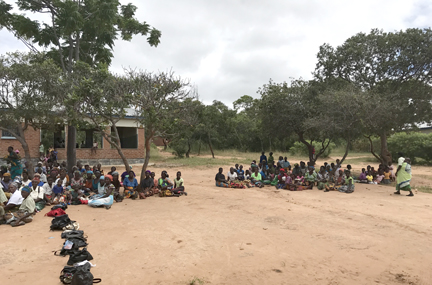 Contributed by Helen Crosby
The sweat ran down people's faces as they waited in line. Hundreds of people were packed into the small, shabby schoolrooms, with those who couldn't fit winding around the building in a line. We were in a small and remote village in Malawi, Africa, running a day-long outreach clinic. It was a rag-tag assembly line of quick medical care.
Each spring, Bridges to Malawi takes a small group of high school juniors and seniors on a medical mission trip to Malawi. Bridges to Malawi is a small, non-profit organization dedicated to bringing medical care to Malawi, Africa – one of the poorest countries in the world. This year's group, which traveled to Malawi in mid-April, consisted of eight students, four of whom are from Stow: Halle Hangen, Meg Haberle, Melissa Buck and me. The organization, and the trip, is led by Dr. Brain Lisse of Hudson and Dr. Don Hangen of Stow.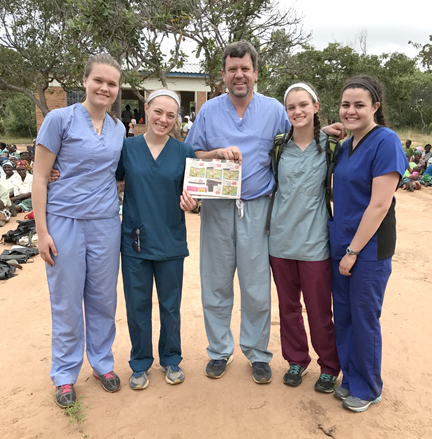 The majority of the trip was focused around working at three local hospitals. The first was St. Andrew's Hospital, a semi-private hospital located in Mtunthama that has both in-patient and out-patient functions. It is situated within the St. Andrew's compound that houses the hospital's workers and is where we all stayed with various host families.
At St. Andrew's, we primarily saw malaria patients – in most instances, young children suffering from serious cases. The visiting high school students were able to take vital signs and shadow the doctors as they worked.
Each morning, we were present at the hospital's briefing, during which the hospital's workers report on their patients. On our first morning, we were immediately faced with the jarring reality of St. Andrew's when two nurses reported on the death of a young child due to malaria. There was no easing into our temporary positions in the hospital.
Many of us had the opportunity to donate blood while at St. Andrew's, and some of us, including myself, were actually able to meet the patient who received our blood. Students who were a part of the EMT program at Nashoba were even able to assist in delivering a baby, which Melissa Buck described as "the peak of the trip."
Within the St. Andrew's compound there is also the AMAO Orphanage. We spent many evenings visiting the orphans, and we even ran an Easter egg hunt for them, as our trip coincided with the holiday. For many of us, this was one of the best and most rewarding aspects of the two weeks we spent in Malawi.
The largest hospital in which we worked was Kasungu District Hospital, or KDH, located a short car ride away from St. Andrew's in Kasungu. Grossly underfunded, its hospital beds are rickety and often crooked, and it lacks proper equipment. Its only x-ray machine is a portable machine donated by the Japanese government. The hospital workers refuse to use it, so anyone who needs an x-ray is forced to travel many miles to the nearest functioning machine, a trip that many in the region simply cannot afford.
At KDH, our focus was on injuries, rather than illness. Headed by Don Hangen, an orthopedic surgeon from Stow, those of us who worked at KDH were stationed in the outpatient injury ward. A shaded area outside the door serves as the waiting area to enter the room where patients can be seen.
In a small room with two ancient hospital beds, as well as a cramped inspection room barely wide enough for a desk and filing cabinet, we assisted patients with potential breaks and fractures. Many patients came in with x-rays that showed an already healed break; treatment was too late in many of these cases, leaving permanent deformations.
The third facility we worked in plays a different role than the other two hospitals. Referred to simply as K2 TASO for the Canadian group that provides most of its funding, this small facility is just a short walk from St. Andrew's.
Instead of treating short-term illnesses, it focuses on ongoing and terminal sickness. This primarily includes treating cancer and HIV positive patients, but we also saw cases of keloids, which are continually growing scar tissue.
K2 TASO offered a fairly different experience for us high school students than the other hospitals. Here, we were able to help distribute medicine, which included learning how to mix chemotherapy drugs.
We also ran two outreach clinics in small villages in order to get treatment to people who do not live near a hospital. Malaria cases were high among the villages, with rates for one village at 52 percent and the second at 61percent, according to Dr. Lisse's trip report. At these clinics, we worked all day triaging, working in the pharmacy, and observing the doctors as they met with patients.
In addition to working in the hospitals, we also had the opportunity to see other aspects of life in Malawi. We ate nearly every meal with our host families, and we were able to learn about daily life. My own host, a man by the name of Josiah, told us that Malawi was "poor in materials, but rich in peace," a quote which reflects the welcoming and positive attitude of most Malawians.
One evening, we visited the home and windmill of the memoirist William Kamkwamba, who we had met prior to going on the trip. We also visited a craft market in the town of Salima on our way to visit the spectacular Lake Malawi.
Melissa Buck described the trip as "a truly once in a lifetime experience," a sentiment which all of us seem to share.
For more information on the Bridges to Malawi organization, please visit http://bridgestomalawi.org/