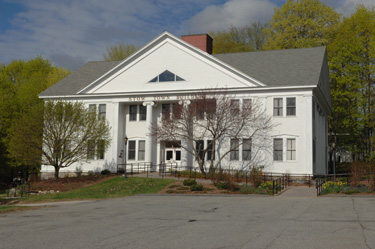 By Ann Needle
In what way could climate change impact Stow and how can the town mitigate those impacts?
A standing-room-only crowd on Aug. 7 heard the results of a report with some answers to those questions, presented in a public listening session by Stow's Planning Board and Conservation Commission.
The 96-page Community Resilience Building Workshop Summary of Findings report was based on the results of a springtime Community Resiliency Building Workshop in which almost 30 Stow leaders, residents, and local climate and natural resources experts participated. The project is part of the state's Municipal Vulnerability Preparedness Program.
The June Workshop was coordinated by Stow Assistant Town Planner Valerie Oorthuys and Conservation Agent Jacquie Goring. The state funded the hiring of consulting and engineering firm Geosyntec Consultants to analyze and report the Workshop's findings, according to Oorthuys.
The Workshop Summary report prioritizes the natural threats to Stow's infrastructure and gives recommendations for possible ways to prevent damage.
The Highest Priority Concern
The workshop participants pinpointed drought as the biggest of the top three climate hazards Stow faces. Participants noted the past damage from drought to local water supplies and firefighting capabilities as determining factors.
The other two top concerns were the strong storms of recent years (e.g., the March storm triggering extensive tree damage and power outages) and increasingly extreme temperatures in both summer and winter, potentially leading to crop damage/failure and inaccessibility to adequate water.
Oorthuys explained the workshop participants utilized data from the state's Climate Change Clearing House for the Commonwealth to assist in determining their findings.  "It is really compelling," she remarked of the information found at resiliantma.org
In its findings, the workshop cited CCCC data such as an estimated increase of more than 4 degrees Fahrenheit in the area's average daily temperature by 2050, with average annual precipitation rising by about 6 inches over that time.
"More precipitation in the winter and spring months. Summer and fall, there'll be drought," Goring explained of the potential impact.
At a time when the focus is on global climate change, what makes this data noteworthy is it breaks projections down by different regions within the state, said Goring. As part of the SuAsCo (Sudbury-Assabet-Concord) Watershed, Stow's current and future climate challenges could vary substantially from those for the state's coastal communities, which face challenges such as rising sea levels, she said.
Given Stow's top climate hazards, the Workshop deemed that protecting the town's water supply is a main concern. The report addressed the issue of Stow residents relying chiefly on private wells for water. When water levels drop, wells can go dry and finding water for firefighting becomes more difficult.  When electricity goes out, well pumps don't work.  Stow does not currently have data on the long-term status of the aquifer that supplies most of the water to the wells.
The results of the workshop urged Stow to reduce potential damage from climate change by addressing storm water management; fixing aging bridges and dams; assuring the survival of farms and crops; shoring up access to isolated parts of town; having adequate town staffing to handle climate emergencies; and updating Stow's hazard mitigation plan.
In battling future climate change, the Workshop prioritized several "Recommendations to Improve Resilience."  The top suggestions were to conduct a water supply vulnerability assessment (help assess the health of Stow's water supply and perhaps identify other water sources); update the hazard mitigation plan (listed again in this category); develop a hazard transportation and communication plan; and develop programming to make farms more resilient in the face of climate change.
Along with the top recommendations, there were additional issues that were prioritized from highest to lower. Oorthuys stressed that the lower priority items, such as to increase conservation land, were still recommended, but could be addressed within the scope of work for higher priorities.
Goring said that questions from last Tuesday's listening session centered on details such as when and which resident wells would go dry at a given drought level, something that cannot be predicted without tools such as the water vulnerability assessment.
Oorthuys noted Stow still needs to look at how to conduct the water supply assessment and how to jump-start other highest-priority recommendations. The town needs to figure out the scope of a project such as this and would likely look first at securing funding through the state grant cycle that begins next spring, she said.
Meanwhile, Goring offered that workshop participants were quick to point out Stow's many sizable strengths in dealing with climate emergencies, from a reliable electric supplier to strong regional health services and buildings such as the Community Center that can be used as shelters.
"We also have a community sense in Stow that I think is really unique," Goring said. "People really do care about each other, it's a small town, we have all of these groups that check on their neighbors."
A copy of the report finding is posted at www.stow-ma.gov, under "Climate Resiliency in Stow"