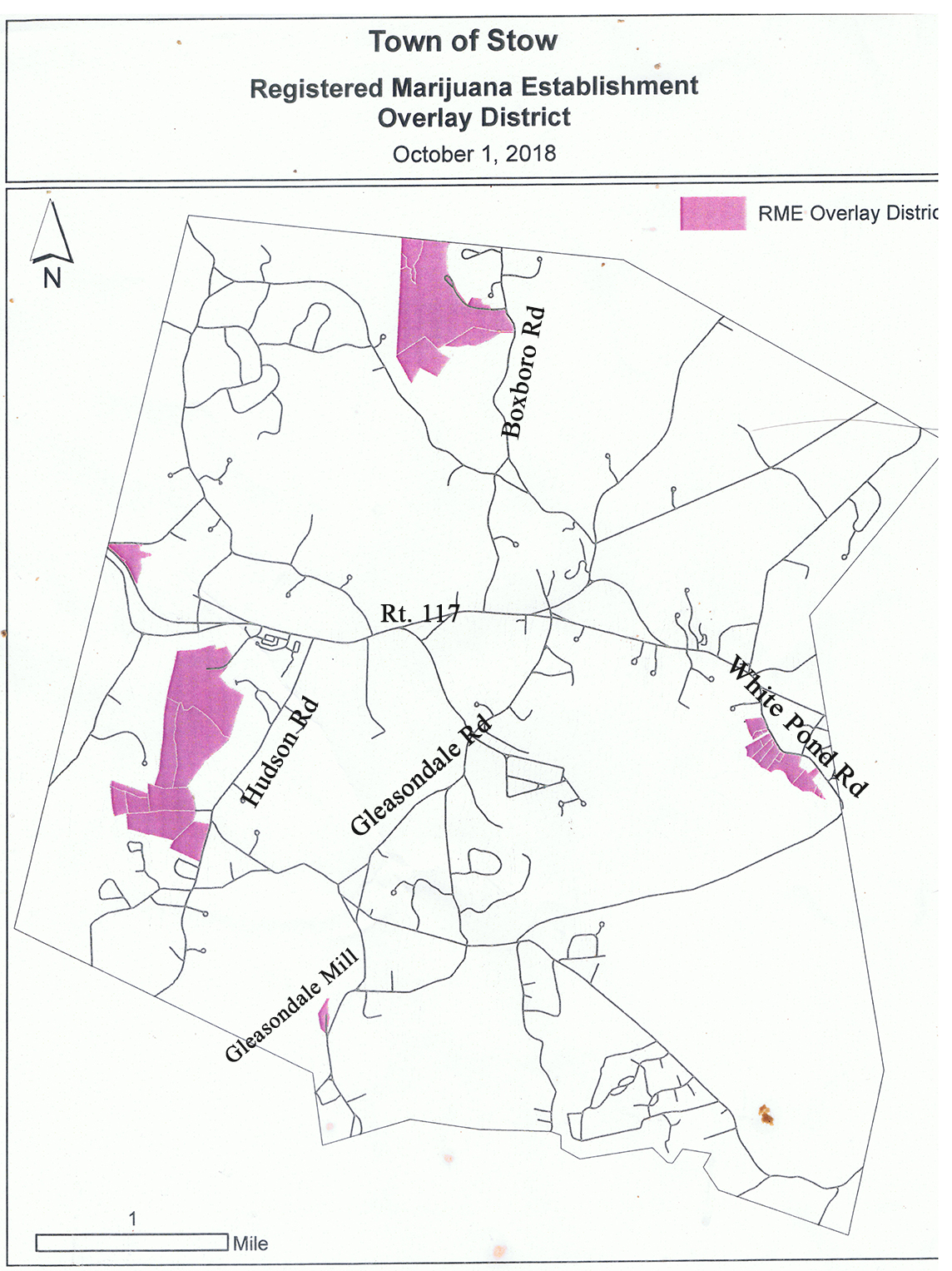 By Ann Needle
Stow residents will be voting at the Oct. 1 Special Town Meeting on whether to ban retail marijuana businesses from locating here — and, if not, how to regulate them. At its Aug. 14 meeting, the Board of Selectmen unanimously approved 15 articles for the STM Warrant, all centered on regulating legalized recreational marijuana.
After voters approved a moratorium until Dec. 31 on these businesses at May's Annual Town Meeting, the Board voted to hold a Special Town Meeting to settle the question of how to regulate retail marijuana. In November 2016, Massachusetts voters approved retail sales of marijuana to adults, with more than half of Stow voters approving the move. The state issued final regulations around sales in April.
For the October Town Meeting Warrant, the first five articles address the creation of a registered marijuana overlay district and boundaries, along with regulations on opening, running, locating and operating these businesses.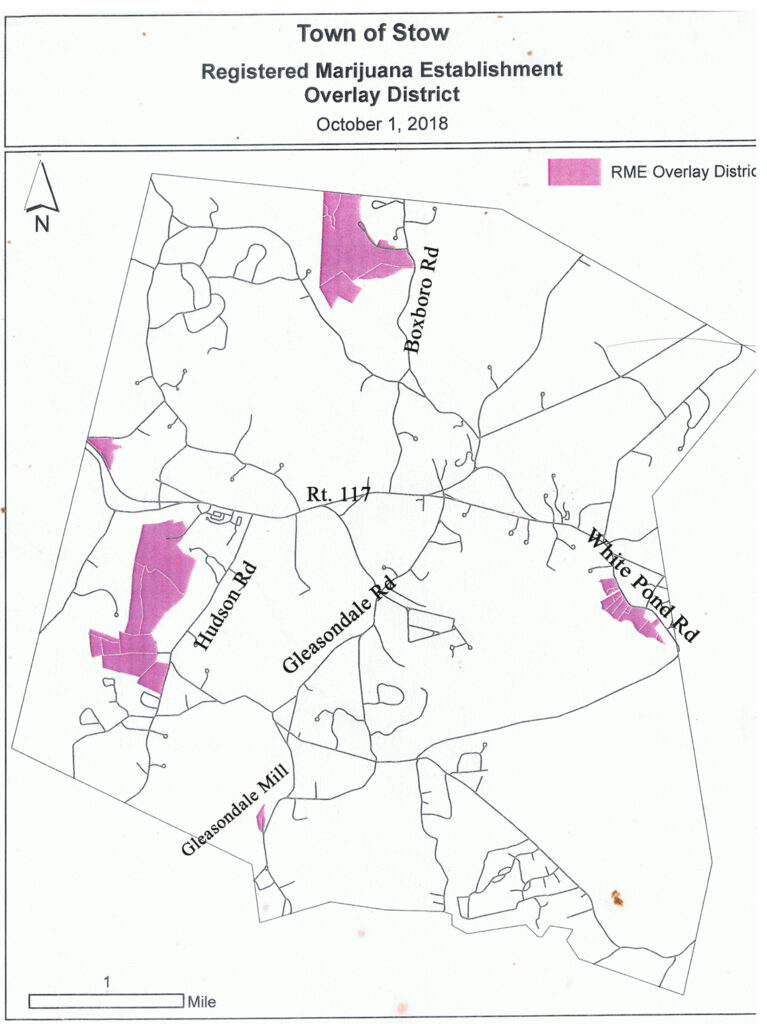 The draft of the overlay map shows commercial and/or industrial areas on White Pond Rd, the Gleasondale mill, the Minute Man Air Field area, the area near Bose and on the Bolton border (see accompanying map). Major housing developments in those areas would be excluded, according to Steadman. Some of the regulations include keeping the businesses at least 500 feet from schools, assuring product security, and setting up a Host Community Agreement between the town and the establishment. Other regulations would allow the town to set hours of establishment and setting up a public hearing process to notify abutting property owners of any proposals.
Two additional articles (labeled 3A and 3B on the draft of the warrant) would limit the number of retail marijuana shops in town to less than 20 percent of Stow's liquor licenses. As Town Planner Jesse Steadman pointed out, the state language on this is unclear. His interpretation is Stow would still be limited to one marijuana shop if Article 3 does not pass, given state law caps the number of marijuana businesses at 20 percent or less of a town's number of liquor licenses.
With Article 4, residents vote whether to assess up to a 3 percent tax on marijuana sales if retail shops are allowed in town.
Articles 5 through 11— labeled "prohibition articles" — ask voters if they want to ban each of the seven adult marijuana business types designated by the state; craft cultivator cooperatives, independent testing labs, cultivators, microbusinesses, product manufacturers, research facilities, and retailers.
Steadman stressed that the articles resulted partly from a public forum in June and an online public questionnaire. "Most folks are either in favor of allowing marijuana establishments or regulating marijuana establishments," he said of what the Planning Board took from this process. Steadman also noted people felt differently about each of the seven types of marijuana businesses, so voters will be asked to decide separately on each.
Zoning the Key to Control 
Because the articles will be submitted as zoning rather than general bylaws, voters must pass each by a two-thirds vote, and by a majority vote at the Nov. 6 election.
Selectman Chair Jim Salvie stressed that voting in the first three articles on zoning would be key to regulating any types of marijuana establishments in Articles 5 to 11 that voters decide not to ban.
Steadman agreed, noting that the Planning Board deliberately put the zoning articles first to give voters a clear picture of how zoning would regulate these businesses before deciding whether to ban them.
Also, a memo to the Selectmen from the Planning Board explained that Town Counsel advised the town to submit the articles under zoning. "Town Counsel has noted the risk of having no local oversight if the Town chooses to prohibit Marijuana Establishments through the General Bylaw process," the memo stated. "Town Counsel has cited precedent of the Attorney General's office for rejecting General Bylaws which seek to regulate land use in a manner that closely resembles a Zoning Bylaw."
The Planning Board's John Colonna-Romano urged the town to make it clear that it is voting on "use" of marijuana to mean land use, not personal use, which the town cannot regulate. The Selectmen echoed this statement throughout the meeting.
Should the town vote down banning any individual businesses, Salvie asked if it would still be wise to consider extending the moratorium beyond Dec. 31. Steadman countered, "Right now, we have the momentum and an educated public that is ready to vote on this issue."
Selectman Brian Burke asked if Article 11 (banning retail shops) should be filed under both zoning and general bylaws, maintaining that sale of a marijuana product could be more of a bylaw issue.  As a general bylaw, it would need only a majority Town Meeting vote to pass.
Town Administrator William Wrigley remarked that regulations do not prevent filing the article under both categories, but that Town Counsel gave its "preferred judgment" in classifying it under zoning.
Burke also suggested moving Article 11 closer to the top of prohibition articles, declaring, "Most people don't care about a research facility." Though the Selectmen rejected a motion to pass the Warrant with Article 11 closer to the top (Burke was the only "yes" vote, Selectman Ingeborg Hegemann was absent), the Board did agree to move it somewhere further up that list when it unanimously voted to accept the Warrant language.
The Selectmen praised the Planning Board for crafting a Warrant from a set of issues and regulations Jim Salvie termed "a ball of yarn." Steadman remarked, "This is definitely the most difficult zoning we've ever tried to do."