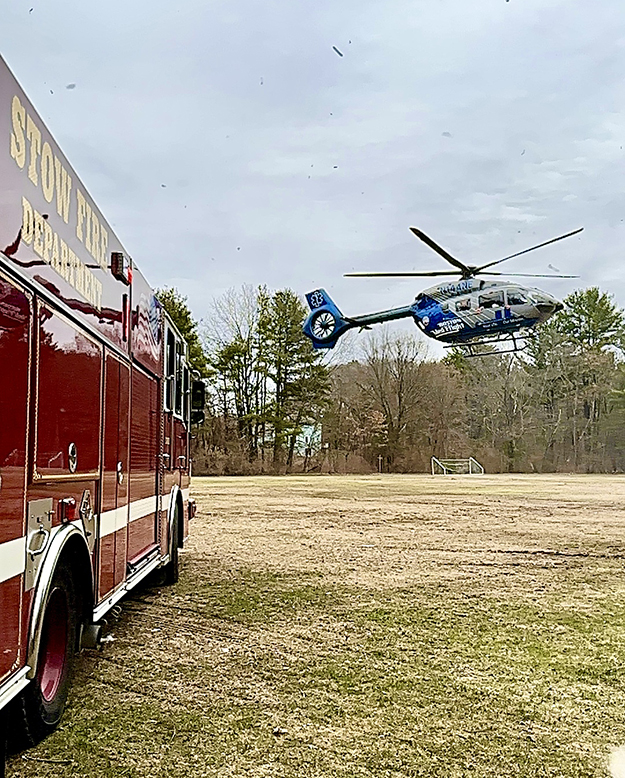 April 5, 2023
From the Stow Fire Department
STOW- Stow Fire Department responded to a medical emergency requiring a medical
helicopter. On Wednesday, April 5, 2023 at 12:02pm the Stow Fire Department, along
with the Stow Police Department and ProfessionalEMS were dispatched to 22
Pompositticut Street for a female that had fallen.
On duty members arrived on scene and began providing medical care to the patient.
Due to the injuries sustained from the fall, a medical helicopter from Boston MedFlight
was requested to transport the patient. On-call members responded to Bradley Lane to
set up a landing zone for the helicopter.
"Our goal is to quickly respond, treat and transport a patient to the closest appropriate
medical center with the appropriate level of care. The decision to wait close to the scene
and transfer the patient from ambulance to a helicopter is a group decision that is not
taken lightly. We are fortunate to have a great relationship with the Stow Police
Department, ProfessionalEMS, and Boston MedFlight," said Fire Chief John Paul Benoit.
The patient was transported to a nearby trauma center with significant but non-life
threatening injuries.